Data Champions: The Secret Ingredient to Upskilling in Data-Driven Organizations
In this recap from DataCamp's RADAR conference, Mai AlOwaish, CDO of Gulf Bank, shares how the Data Ambassador program at Gulf Bank is enabling a data culture within the company.
Business data is key to the operational performance of any company. However, it takes more than just one individual to ensure that the right data is gathered, translated, and optimized. Rather than recruiting new data-oriented workers, more and more companies have now pivoted to upskilling as a means to create a data culture.
As a part of DataCamp's RADAR conference, Alina Georgescu, Head of Sales Enablement at DataCamp, moderated the session "Building Data Champions at Gulf Bank: Scaling Internal Data Talent Flows" featuring Mai AlOwaish, Chief Data Officer at Gulf Bank. AlOwaish introduced us to the idea of data champions and explained how Gulf Bank cultivates a data culture at the company.
In the post, we recap AlOwaish's session, in which she shared insights from her experience and gave essential advice for generating a data culture at your company.
What Makes a Data-Driven Organization? The story of Two Different Marketing Teams
Not everyone who looks at data is data-driven, AlOwaish argued through her story of two marketing teams who have to navigate plummeting purchases five days into a marketing campaign.
Team A, which only looked at last year's data, decided to halt the campaign and reassign the budget to another well-performing campaign. While they think they're making a data-driven decision, they were only looking at static data and thus missed some vital clues.
Team B instead studies the data more scrupulously, including real-time data, and continues the campaign, noticing an uptick in memberships and an increase in non-campaign purchases. By looking at metrics beyond what they received in a report like Team A did, Team B is able to make a truly data-driven decision, leading to improved results.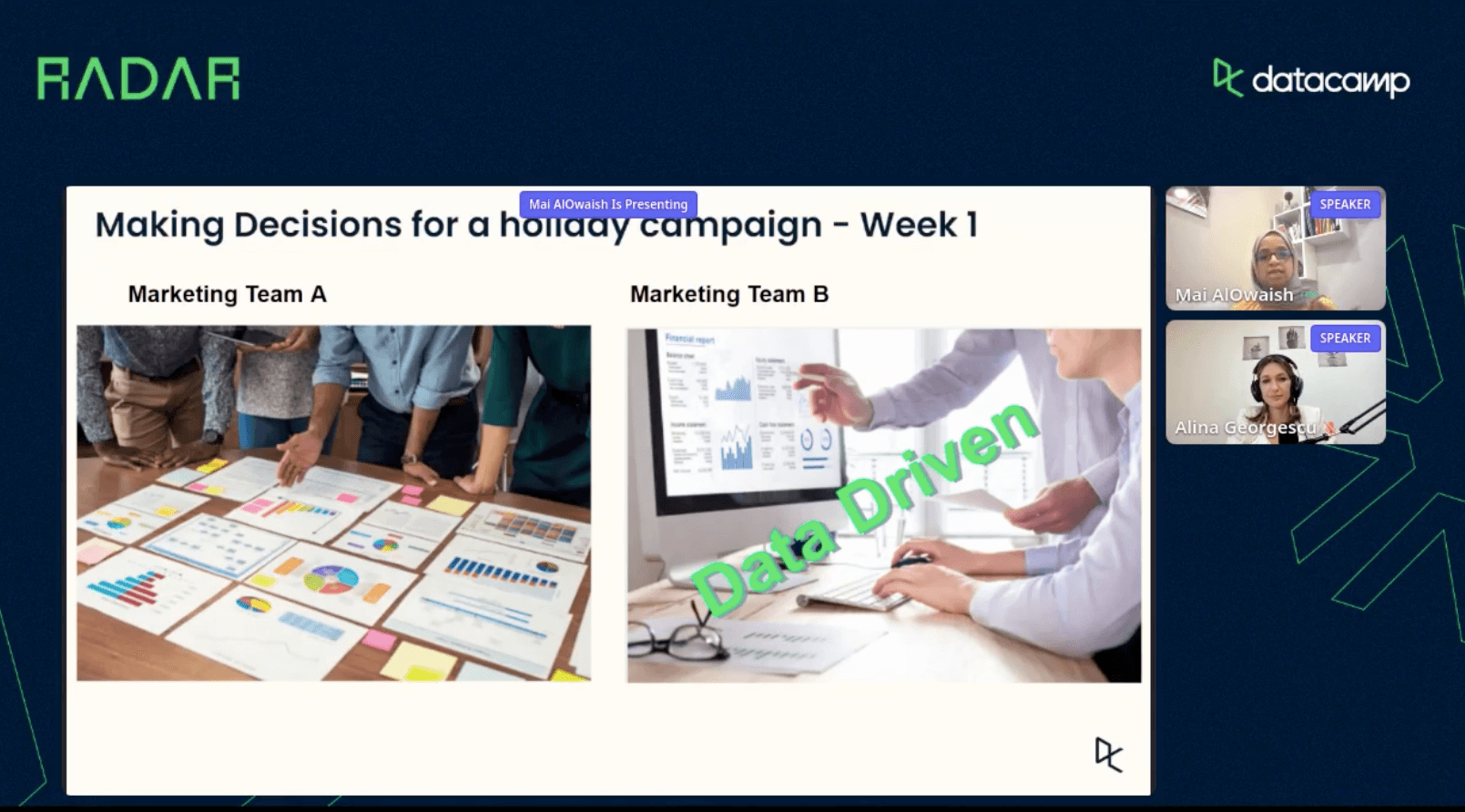 "We need to empower teams to really self-serve with analytics," said Mai, who deemed Team B more data-driven than its counterpart. She believes teams should be able to explore new ideas on an ad hoc basis, experiment and play with data, and navigate the data for the best, intended use. For that to happen, though, the key ingredient is a data culture.
How do you develop a data culture? According to AlOwaish, a data culture can be built from within the organization, starting with a champion network that evangelizes the importance of making data-driven decisions. Once that champion network has been forged and established, an organization and then start rolling out an enterprise data literacy program.
How a Network of Data Champions Forged a Data Culture at Gulf Bank
According to AlOwaish, there's a recipe for building data champions, with all key ingredients being centered around community and skills. Here's a breakdown of what these ingredients look like:
Ensuring that the organization has a supportive structure for data champions, with executive and managerial support so that each department is embedded with data champions and experts who benefit the rest of the team.
A learning curriculum set in place to enable champions to accelerate their skills—and accelerate the use of self-service analytics.
Incentives and community of practice to underscore the importance of upskilling—all centered around answering the key question of "What's in it for me?".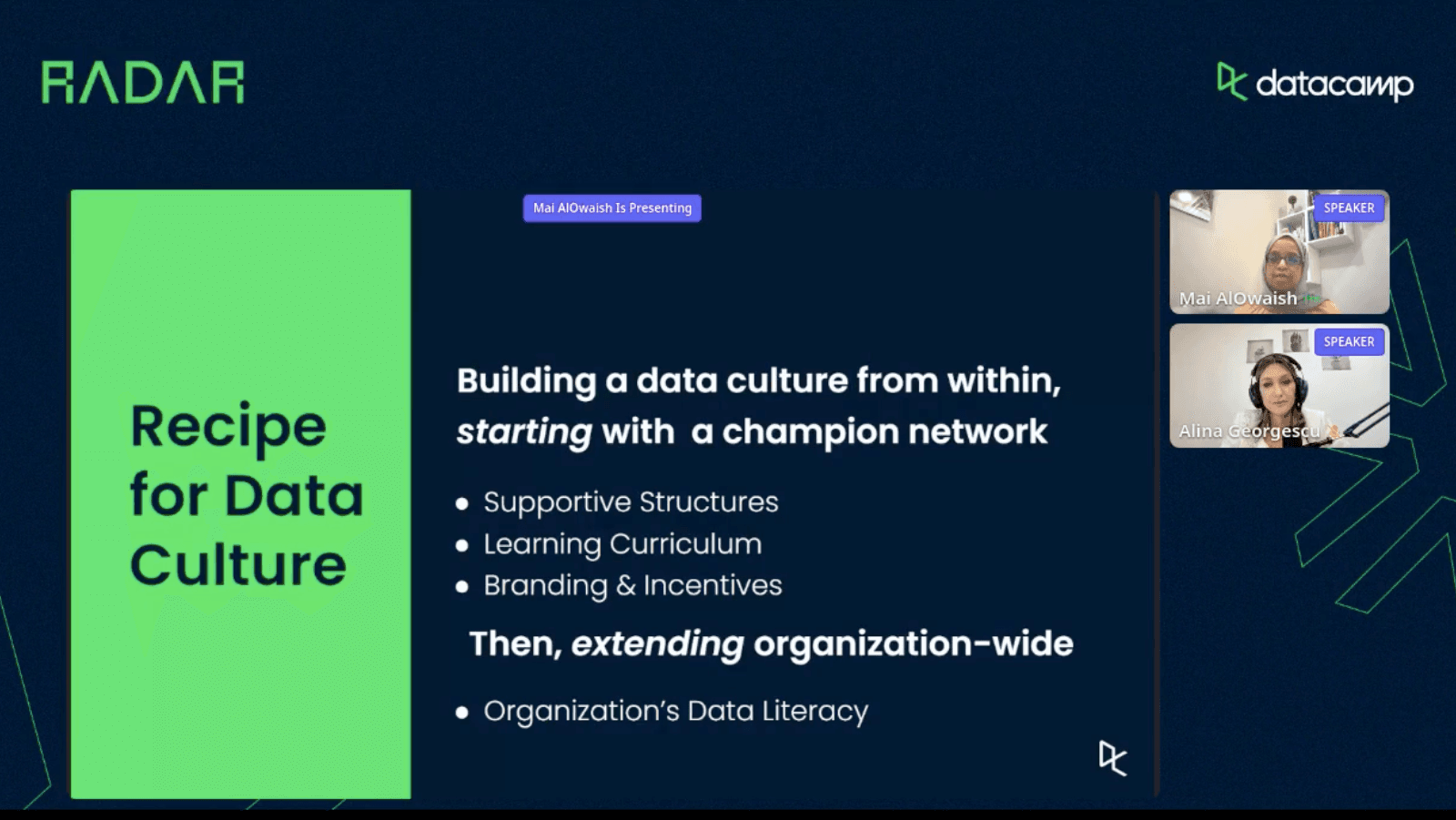 After having established the champions network, the next challenge is rolling out a data literacy program for the remainder of the organization. As Mai exclaimed, data creators and consumers alike need to recognize the importance of data as an asset for everyone to succeed at Gulf Bank,
Yes, the data champions are crunching numbers and reading the data, but it's others who are entering the numbers. So, those doing that task need to recognize the data's value, that it has to be complete and useful for analysis,

Mai AlOwaish, Chief Data Officer at Gulf Bank
Moreover, being data literate also means being able to discern which data fits the intended use of the company, for the right audience, and the right time.
How The Data Ambassador Program at Gulf Bank Accelerated Data Literacy
The session wraps up with an overview of the Data Ambassador program, which was implemented at Gulf Bank from 2021 to 2022. The program is a formal data literacy program that nominated data champions within every department at Gulf Bank and extended upskilling for the wider organization.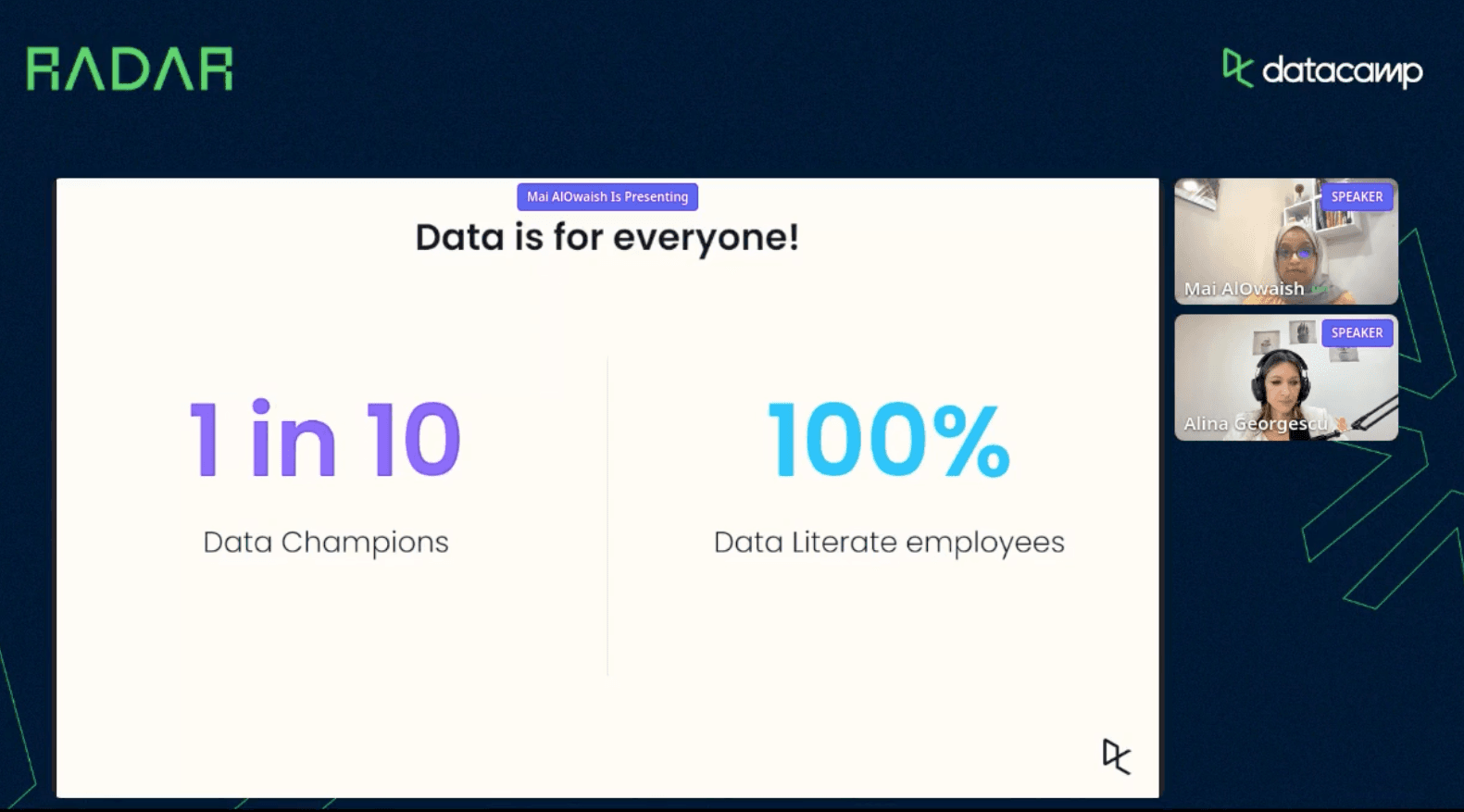 In every data-driven organization, there is a tendency for one out of ten individuals to be heavily data inclined, which is the perfect starting point for creating solid data champions. As such, Gulf Bank developed 140 Data Ambassadors out of 1,000 individuals in their head office.
"Anyone who touches data in the department qualifies as a Data Ambassador," explains AlOwaish, who also delved into the newly-gained skills of the champions. The upskilling program at Gulf Bank provided workshops on data quality, data visualization, automation, and more. Data champions were also taught Tableau to self-serve analytics until their graduation from the program a year later.
From consumer banking to human resources, risk management, and IT, these champions then became the 'go-to person' for data in their departments.
Finally, these champions were celebrated with a graduation ceremony and were gifted with a variety of prizes and goodies, which further reinforced the community aspect of the program.
Outside of the data champions, the remaining employees underwent a data literacy program to build their fundamental skills in data.
What we've done is really go through the whole organization and give everyone a 101 about data, how data quality is important, and how even the branch tellers, and the call center agents, can work with data to make sure any piece of data they put in is of high quality to benefit the ambassadors or the champions,

Mai AlOwaish, Chief Data Officer at Gulf Bank
A staunch believer in EM Rogers' 1962 Diffusion of Innovations Theory and in the positive but incremental influence of teamwork, AlOwaish ended the session by sharing one of her favorite quotes: "The human element of transformation is as fundamental to the success as its infrastructure-related counterpart," by Al Sumait, Helsper, Navarro, Al-Saif and Raut (2022).
The human element, AlOwaish explains, is what truly makes a data culture stick in an organization. New tools and workflows are important, but building an engaged champion network is one of the biggest wins an organization can score on its way to building a data culture.
To watch Mai's full session, tune in for the on-demand recording here.