High school teachers and their students now have free access to DataCamp for Classrooms
On this Teachers' Day, we salute the brave heroes educating the next generation and celebrate the 500,000 teachers and students who received DataCamp for Classrooms scholarships to date.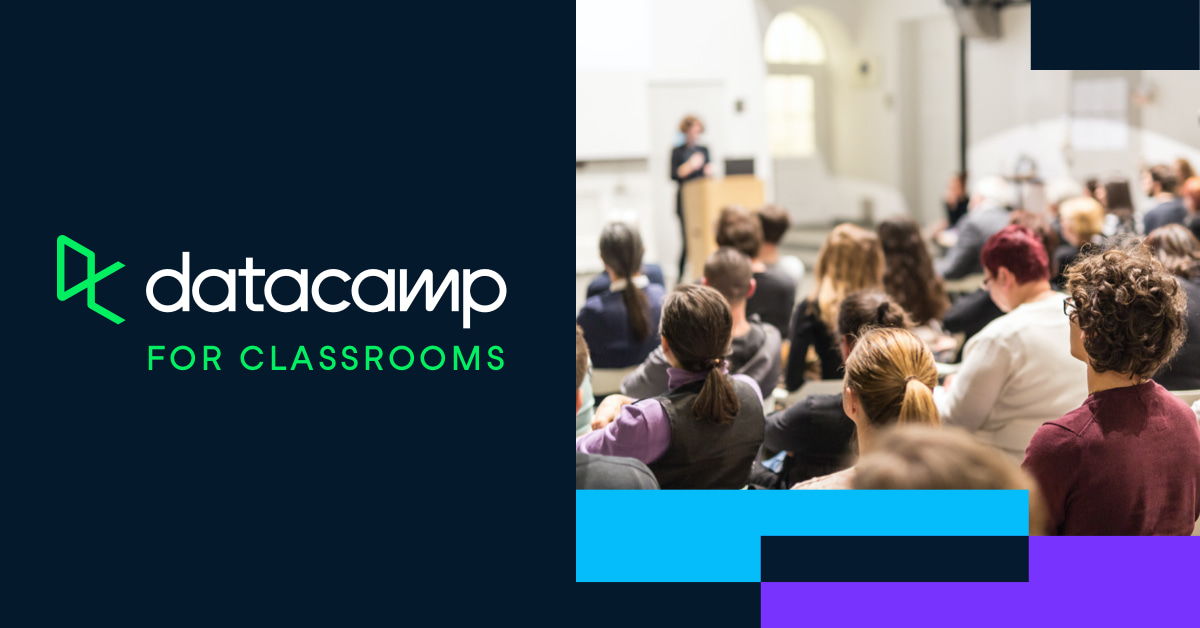 Today is Teachers' Day in the United States and everyone at DataCamp wants to take this opportunity to give a resounding "Thank you!" to all of the amazing teachers in this country and around the world who have sacrificed so much to educate our children and keep them safe. As of today, US high school teachers are eligible to register their own free Professional DataCamp account. US high school teachers can now invite their students into their accounts for free access, just like college/university educators have been doing for years. They can assign 350+ courses, every project, Signal assessment, and more on desktop or mobile.
History of DataCamp for Classrooms
In 2017, we decided to give up 10% of our revenue by giving free DataCamp access to postsecondary school instructors and professors as well as their students. We wanted to show the world that DataCamp was serious about democratizing data skills around the world. DataCamp believes that data education (like all education) is a basic human right. Today, we're elated to announce that 500,000 unique users have learned invaluable skills through DataCamp for Classrooms to date. Currently, over 100,000 students and teachers in over 3,750 classrooms are enrolled in DataCamp for Classrooms.
So thank you, all 500,000 thousand of you, for making DataCamp for Classrooms the groundbreaking program it is today. Five hundred thousand humans might be hard to visualize, but we tried:
Evolution: DataCamp for Classrooms for US High Schools
Opening up DataCamp for Classrooms to high schools launches today as we recognize that secondary schools everywhere are struggling to become data literate in both the educational and administrative realms. Less than half of American high schools have computer science programs, and far less teach data science, specifically. Frustratingly, yet fittingly, there exists very little data on data science, analytics, or engineering education in US high schools. We see no reason why DataCamp can't change that.
So we have. Every US high school teacher can now make a DataCamp for Classrooms account to get six months of Professional access for themselves and their students. All of the amazing features previously only available to college and university professors and their students are now ready to be deployed in high school classrooms from coast to coast. There's never a need to purchase or download additional software as all learning happens in-browser. Teachers have access to crucial tools like Assignments, Progress Reporting, Signal skill assessments, while students can world-class data science training online or off, at home or on the go. All teachers need is a valid official school email address and a faculty page on the school's website.
Teachers can even reapply after their first free semester of access for another one. There's no limit to the number of free semesters an educator can get with DataCamp for the Classrooms, and the same goes for their students. We hope US high school teachers can also use this to complement their remote and/or hybrid teaching models to make sure their students are still getting the highest quality education. While DataCamp for Classrooms does not accept international secondary school teachers yet, they may still qualify for the same free access by applying to DataCamp Donates.
Teachers of the world: you all do so much more than you get credit for, especially during this pandemic. If you want to teach (or just learn) data science, DataCamp for Classrooms will save you considerable time and help you deliver a memorable experience to your students. We hope you take advantage of our offer to increase your school's data literacy for free.