New Hire Spotlight: Iryna
Learn how a DataCamp Donates participant landed a job with DataCamp.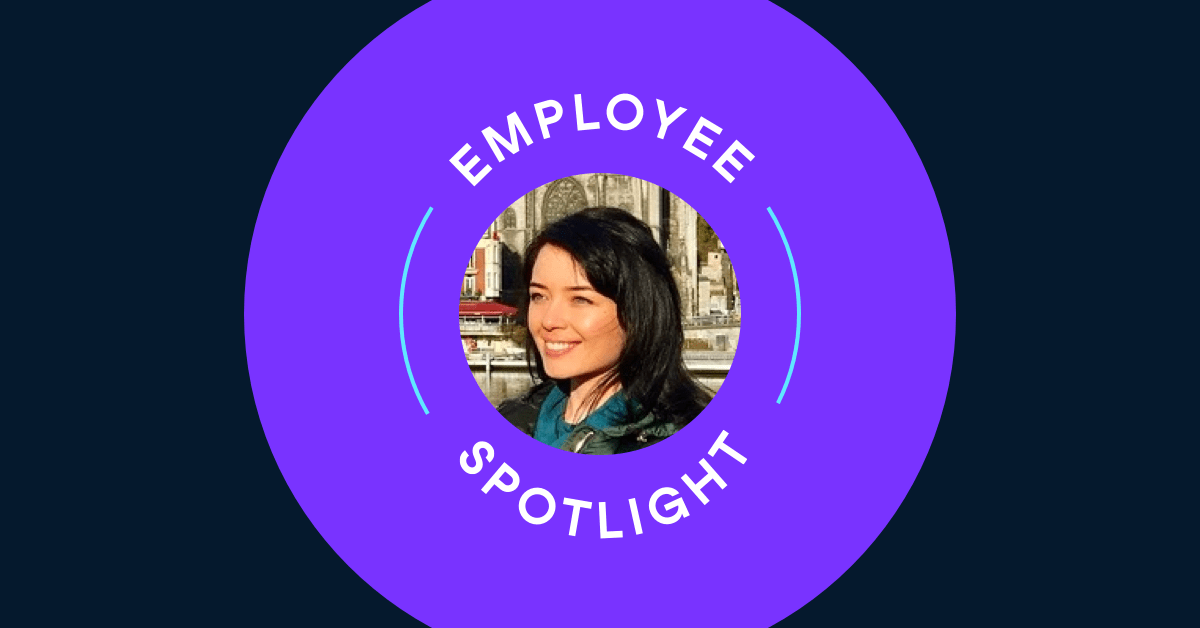 Once an accountant in Ukraine, Iryna's move to Belgium and a new culture inspired a fresh start. After learning web design from Hack Your Future Belgium, one of DataCamp Donates' partner organizations, she now works with us full-time as a frontend developer. Read on to find out how, for one woman, data got democratized.
Let's start with the present: what do you do at DataCamp?
I started last March as an intern in software development, and incidentally, today is my first day working in this role full-time. Right now, I work with the commercial team on all DataCamp's signed-out pages: that is, when you visit the website all the pages you can reach from there without signing in is our work.
What does your job typically involve?
I start my day by checking new tickets (requests from colleagues that relate to my job). Then we have our daily meeting—although this gets repeated later in the day because of the time gap between us, the London team, and the team in the US. Usually, I have a couple of other meetings with other team members to ask work-related questions—other than that, I press on with all the jobs on my plate. Working from home was a bit strange at first since I started my internship completely remotely, so I saw two people from the office on my first day when I went in to pick up my laptop, and have never seen my teammates in real life since. Still, the communication and everything else works so well here at DataCamp that it never really feels lonely.
Going back in time, where are you from?
I'm from Ukraine and I moved to Belgium one year ago. That actually inspired my career change. Originally in Ukraine I was an accountant, and I moved to Belgium since my husband was working there. When I moved here it was a new beginning, and I asked myself if I would like to transition into something else. In the end, I chose to transition to web development, and I'm really happy that I made that choice—I love this job, there's so much variety to it, so much room to be creative and so much room for me to learn!
Where did your interest in tech start?
When I moved I was kind of out of my depth. My English wasn't perfect, I didn't speak any Flemish or French, so when I went to an integration course to learn these languages I also had an opportunity to take courses in tech too—HackYourFuture ran one. They would later become one of DataCamp Donates' main partners. They were offering tech courses to newcomers and refugees in Belgium for free—I didn't really know if it was for me, but I decided to give it a try. I ended up spending the rest of the year in that course, and afterward decided to pursue it as a career. I came across the internship on DataCamp, and now that's me working in development full-time! My first project, incidentally, was DataCamp Donates itself, when they were working on launching their own site. Effectively, my role was using Squarespace to make the site match the main site's design.
Is there anything you'll be working on in the future that particularly excites you?
I really like the fact that I work with DataCamp Donates to expand what they do to more countries. For me, that quite literally hits close to home. But every day there are new projects coming in, and the main thing that excites me is that I work with such amazing people from whom I can learn a lot.
Any advice for how DataCamp Donates can better itself since you've experienced what they offer as a learner?
Keep doing what you do. There are a lot of countries like, for example, Ukraine itself where development is beginning to take root. So, the education and lifestyle are great in the capital but in smaller cities and the countryside not so much. As a result people really have an interest in upgrading their skills, and parents are determined to ensure their children get the best education.
Would you like to join Iryna at DataCamp? We're currently hiring in New York, London, Leuven, Belgium, and remote locations. Check out our open roles.
Hack Your Future Belgium is an open education nonprofit that prepares newcomers for a career in web development, with a special focus on refugees and women. They facilitate integration and address the shortage of qualified workforce in the IT sector. Learn more and get involved at www.hackyourfuture.be.