DataCamp Donates is the Best Way to Transition into a Data Analyst Career
Discover the inspiring story of Amanda Wade, a DataCamp Donates recipient through our nonprofit partner BreakLine. BreakLine helps veterans, women, and people of color pivot into compelling careers in the tech industry. She was able to transition from a Finance to a Tech career and get hired as a Data Analyst at Google using DataCamp.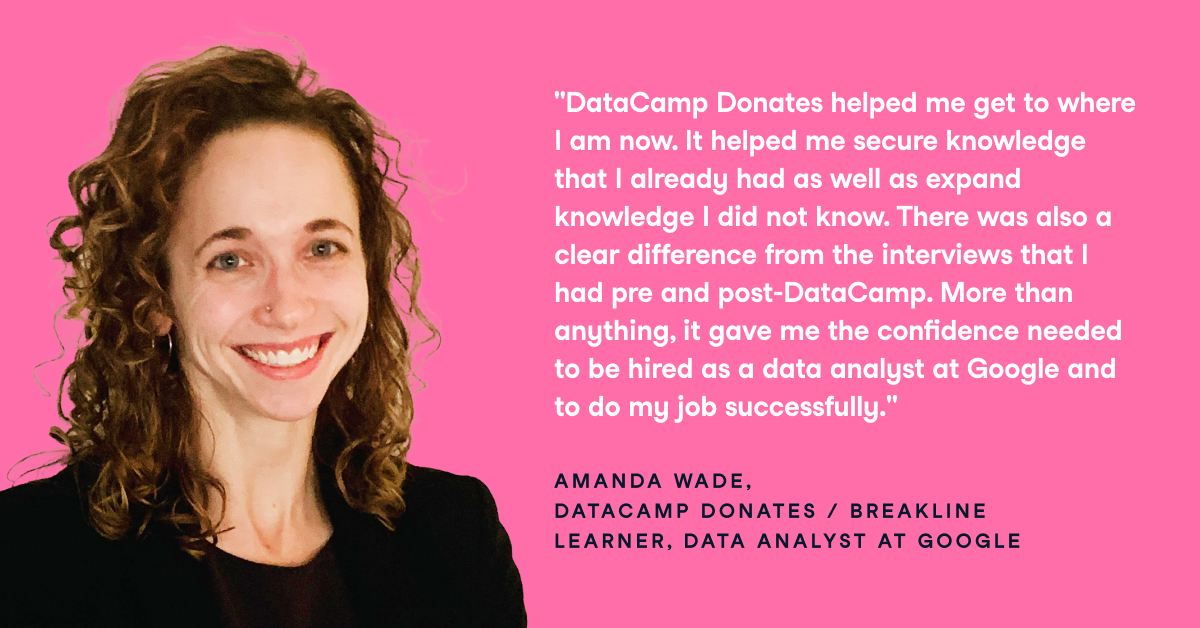 Despite the rhetoric told to young professionals, career paths and the interview process are the furthest things from linear. It's more comparable to riding a roller coaster for the first time: full of twists, sharp turns, hills, surprisingly large drops, and loops that sometimes bring us all back to where we started. This holds true for my career path and the job search process I faced when transitioning to the tech industry, but with the help of Breakline and DataCamp Donates, the ride seemed so much smoother.
Right out of graduate school, I started a career in finance, an area that was foreign to me and beyond what I thought awaited me after college. The way the market moved made no sense, and I always imagined Wall Street was only attainable for the extremely wealthy. I tried my hardest to apply my math and programming skills but was always left unsatisfied, unappreciated, and under-challenged with my responsibilities. There was little to no impact on the amount of time and energy I put in, so I decided to dive back into the job hunt.
Breakline: How to get a career in tech
LinkedIn and the personal connections I made were where I turned to first to ascertain a position in data science. The connection between quantitative analysis and data science seemed logical. Months went by with no response to the hundreds of applications, and the longer I went without any prospects, the more desperate I became to find a job. Until one day, a representative of Breakline Education reached out to me about their program, which helps women, POC and veterans transition their careers to the tech industry. Breakline helps you with writing your resume, executing a flawless elevator pitch, answering behavioral questions, negotiating salary, and so much more to paint a picture of how your skills match up to the job description. This amazing program increased my confidence in holding a conversation and getting in the door, but the biggest struggle for me was in the technical screening and the case study portions of the interviews.
With a degree in mathematics, one would think I wouldn't be afraid of technical questions, but when I faced a technical screening, the interviewer would ask me, "What's 1+1?", and after much fumbling, I'd answer with three. No matter how many practice problems I did, books I read, and videos I watched, nothing seemed to help or give me the confidence to succeed during this portion. After expressing these concerns, Breakline teamed up with DataCamp Donates to provide its participants with free access to this online platform, to which I was one of the first people to receive access.
DataCamp Donates: How to prepare for Google data analyst interview
From day one, the DataCamp obsession set in because I had so many activities to choose from: courses, assessments, and projects. The career tracks set me up to work on building and solidifying my knowledge in both R and SQL while enhancing my skills in Python. Each day while sitting on the couch, watching TV with my partner, I would have my laptop on my lap coding away for an hour or four. Laying in bed in the evenings, I'd be on the phone app completing the multiple-choice knowledge practices. The platform made the learning fun and interactive, and compared to other programs I've tried, it makes you think critically by slowly increasing the level of difficulty in the practice problems.
Enhancing my knowledge is important as I am an advocate for lifelong learning and what motivated me, even more, to do so was the leaderboard. Once I found the leaderboard, my competitive nature erupted and I needed to crush the competition. It was fun to compete and stay on top of the leaderboard while learning the skills I needed to become a successful data scientist. It helped me become more confident in my abilities. I was prepared for the next technical interview that came my way. Fortunately for me, this interview was with Google, a company that I was excited about the chance to work for, but the prospect of actually working for seemed implausible.
DataCamp: How to learn data science
As the interview neared, DataCamp continued to serve me well. I practiced statistical testing and machine learning algorithms to ensure my knowledge of hypothesis testing, p-values, logarithmic regression, and k-means clustering was ingrained in my head. The unguided case studies were superb to practice for the case studies I knew I would face during the interview. The assignments helped to ensure that my knowledge of R and SQL was prepped for the technical screening. I was ready, and for the first time ever, I walked out of my interview not feeling the dread of defeat, but rather victorious because I put my best foot forward to show my skills. DataCamp helped me feel confident during my interviews, and as I started my job with Google, it continues to help me succeed. No matter where my career path takes me next, I know I'll have DataCamp as an aid to push me through the roller coaster.