New Hire Spotlight: Ramping Up at DataCamp in a Remote Work Environment
Q&A with Adnan Ali Aamir, Product Marketing Manager at DataCamp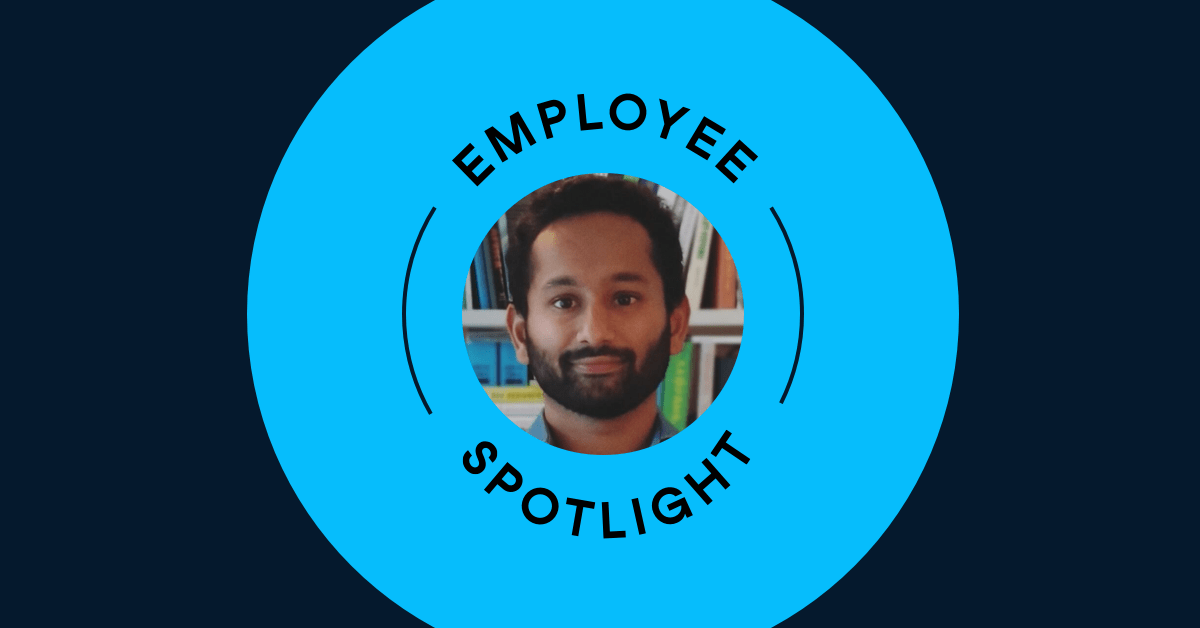 Tell us about your path to joining DataCamp.
During my MBA program at INSEAD, I was looking for a quick way to pick up the SQL skills I needed for one of my economics courses. DataCamp's ease of use impressed me, so I looked through INSEAD's alumni directory to see if I could connect with someone at the company. That's how I came across Jelle, DataCamp's VP of Finance. After a quick coffee chat about DataCamp's mission and its people, I was hooked. I found a Product Marketing role right up my alley and applied.
What did you like about the onboarding process at DataCamp?
What particularly stood out to me were:
My manager: I loved how hands-on my manager, Caroline Harris, was throughout the process. She took out an entire week to make sure another new hire and I were up to speed with all things DataCamp. This really helped in helping me hit the ground running.
The people: My onboarding at DataCamp revealed a collaborative and understanding nature across all employees. From coffee chats to the most menial questions, there's always someone to help.
The transparency: I know a lot of companies like to say they're transparent, but DataCamp truly is. From CEO meeting notes to sensitive financial metrics, every employee has access to these tools. This has built an environment of trust that has been key to getting me ramped up quickly. I plan to also speak with the founders to understand their perspectives on why they started the company.
What do you like to do in your spare time?
I am a firm believer that a healthy body equates to a healthy mind. You can usually find me trying out the latest in fitness trends and experimenting with my diet. With all things lockdown, my latest activity has been biking. The empty London streets have been perfect for my new hobby 😃.
I'm also an avid traveler! In the twelve months prior to Covid, I had the opportunity to visit 14 countries. I love exploring new places and learning about different cultures from my own. I'm looking forward to some travels once it's safe to do so.
What's something interesting you've learned recently?
You can build solid relationships virtually. I've always been skeptical of working from home, especially starting a new job in a remote environment. My experiences at DataCamp have proved me wrong. With colleagues all over the globe, I see that everyone realizes the importance of not just work but also building social capital. Each meeting always has a social element about it—whether it's celebrating a personal win, introducing a baby or even a pet. These initiatives help bring teams together and create a positive working environment.
How do you feel about DataCamp's evolution and positioning in the market?
First off, and I may be biased here, but I truly believe DataCamp has the best data learning platform on the market. I'd recently completed DataCamp's Introduction to SQL course before coming on board, which equipped me with the tools I needed for my school project.
The recent rebrand has been a breath of fresh air. It's brought a new lease to all of our content which has been great.
There's a lot more that needs to get done, but I'm confident that DataCamp has the right product, and more importantly, the right people to succeed.
What would you tell others who are considering working for DataCamp?
Get in touch and talk to a DataCamper. Get to know the company personally and see if it's the right fit for you. We're making a tangible impact on people's lives while having fun doing it!
What's the weirdest job you've ever had?
The summer during college, I was part of our alumni fundraising team. This job was commission-based, so I learned early on that outbound sales is not easy. I've had a lot of empathy for Sales teams thanks to that experience!
Anything else you'd like to share with our learners?
DataCamp was founded on the epicenter of active learning by doing. Our unique, hands-on methodology of Assess-Learn-Practice-Apply makes us truly the best place to upskill in data fluency. In this increasingly data-oriented world, you don't have to be on a data scientist track to benefit from what we offer.
Would you like to join Adnan at DataCamp? We're currently hiring in New York; London; Leuven, Belgium; and remote locations. Check out our open roles.