DataCamp Is in the Top 100 Fastest Growing Companies on Deloitte's Technology Fast 500™
DataCamp grew 1,232% from 2016 through 2019.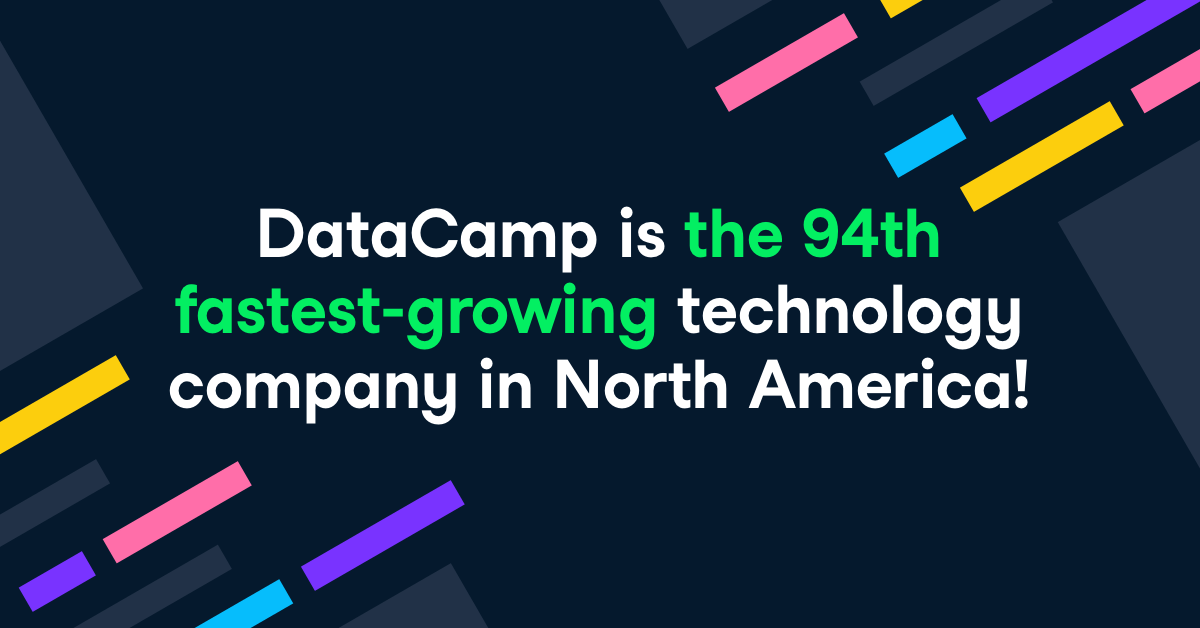 DataCamp is proud to announce that for the second year in a row, we've been recognized on Deloitte's Technology Fast 500™, a ranking of the 500 fastest-growing technology, media, telecommunications, life science, fintech, and energy tech companies in North America. DataCamp ranked 94th this year, with a growth rate of 1,232% over the three-year period from 2016 to 2019, and is the second-fastest-growing edtech company to have earned this distinction.
DataCamp CEO and co-founder Martijn Theuwissen credits our growth to the evolution of our platform and curriculum, and the crucial role of online learning in digital transformation initiatives.
"We are delighted to be recognized for the second year in a row on Deloitte's Technology Fast 500 ranking of the fastest-growing companies in North America," said Theuwissen. "With nearly seven million learners and more than 1,600 business customers, DataCamp enables companies to build data fluency at scale. Data skills aren't just for technical roles anymore—the most successful companies know that today, everyone needs data skills to do their jobs effectively.
"In addition to providing a best-in-class learning solution to build these data skills, DataCamp also allows companies to track their teams' skill progress, measure program adoption and engagement, compare their progress with industry peers, and identify organizational strengths and skill gaps. We understand that data is at the core of every business today, which is why we are committed to delivering companies and individual learners the world's best platform to become data fluent."
Our Platform and Curriculum
DataCamp for Business
We help organizations create custom learning journeys based on their teams' skill sets and desired learning outcomes. Data-driven organizations aspire to be data-fluent at every level, which means everyone is equipped to answer business questions with data. The success of digital transformation initiatives pivots on having the appropriate data skills across the organization.
DataCamp for Business enables companies to build these data skills in every role and at every skill level. It's easy to implement and manage for teams of any size, with an admin dashboard that allows custom learning paths based on roles and departments, Advanced Enterprise Reporting to measure the impact of online learning, expert guidance from a dedicated Customer Success Manager, and seamless SSO and LMS integrations. And we're laying the groundwork for organizations to visualize their team's strengths and skill gaps at scale with an automated skill matrix.
The most effective platform for data skill training
DataCamp's proven learning methodology helps companies and individuals systematically build and apply the data skills they need to make better business decisions.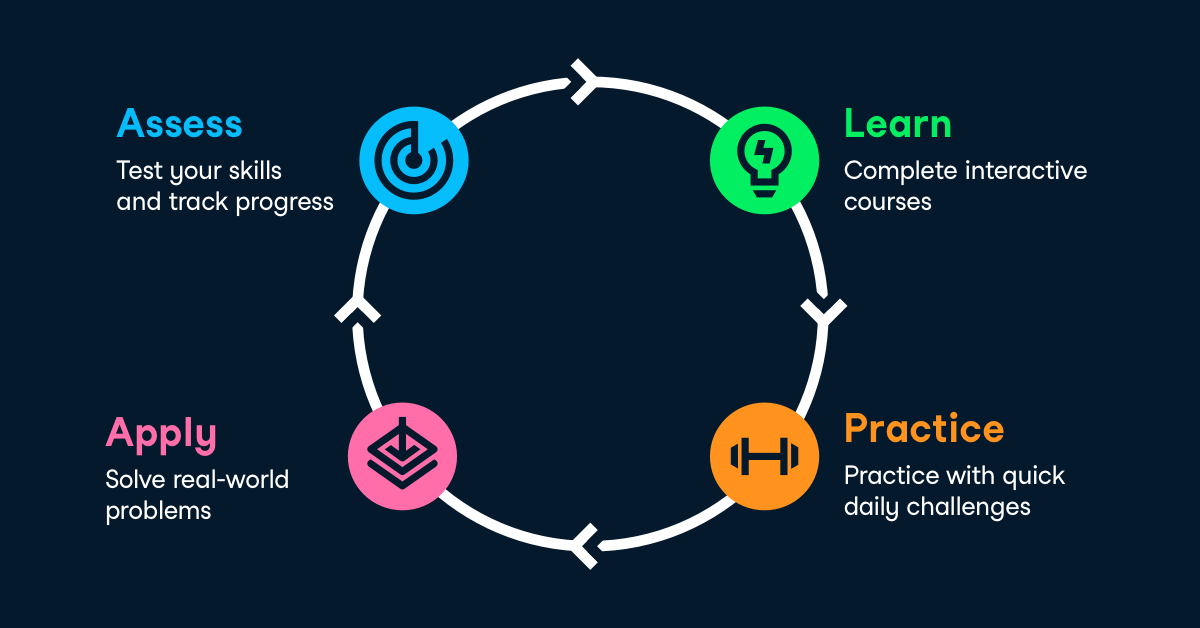 Assess
Effective learning starts with assessing learners' skills to identify strengths and skill gaps. Organizations can leverage DataCamp Signal™ to provide personalized learning recommendations, save time by identifying exactly what each learner needs to improve, and focus on the skills needed to accomplish their business objectives.
We now have 14 total assessments on topics in Python, R, SQL, and understanding and interpreting data—with many more on the way. Learn more about the methodology behind what makes Signal the gold standard in applied data skill assessment.
Learn
We've grown our curriculum to cover a wide breadth of technologies and topics, including new content for people in non-technical roles who need to be able to analyze and interpret data and work more effectively with data professionals. We've created content in key topics like Machine Learning Scientist with Python and Understanding Data Visualization, and skill tracks like Data Skills for Business and Understanding Data Topics. We've also increased content centered on business intelligence tools like Tableau, Power BI, and Excel, and expanded our focus on data engineering to help you collect, clean, and catalog your business data. We've also made learning more accessible with subtitles in nine new languages!
Our library of interactive courses has grown from just one course on January 1, 2015, to over 340 courses today, and our average course completion rate of 60% is far higher than the industry average of just 15%.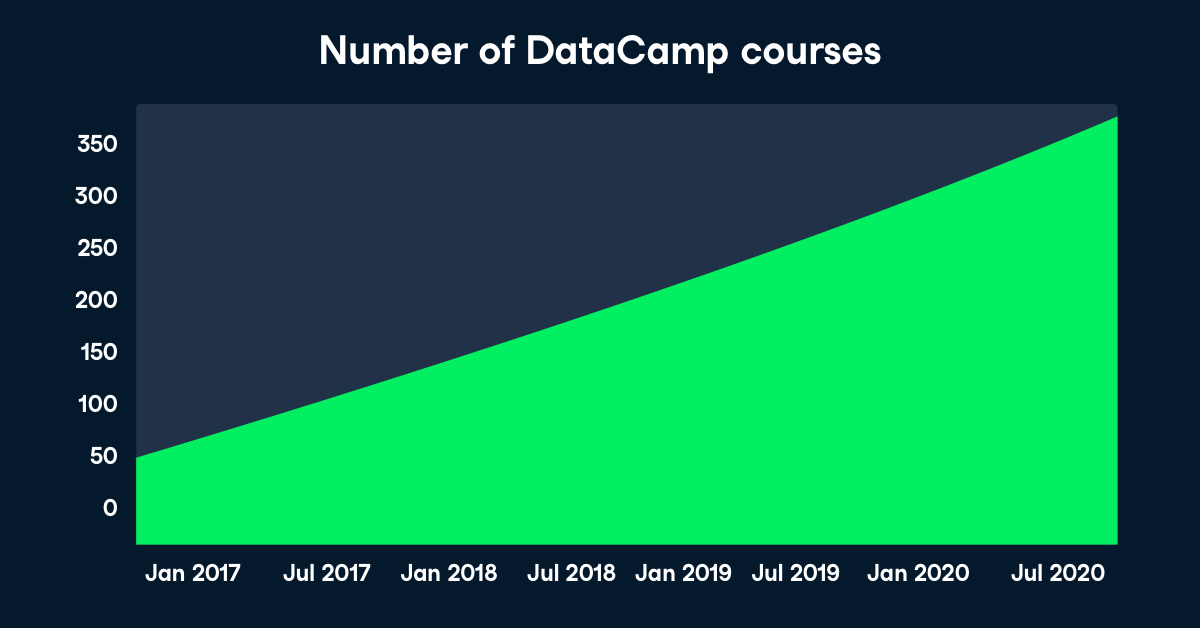 Practice and Apply
The DataCamp mobile app is now fully optimized for the best possible coding experience on mobile with features like autocomplete, making it easier than ever to learn how to code on a mobile device. The mobile learning experience is also now structured around lessons as opposed to full courses, making it easier to make progress with shorter units.
Unguided projects provide a new way to apply professional data science skills and build the confidence learners need to code on their own in the real world. Unguided projects are designed for intermediate and advanced learners who want to solve open-ended data science problems without step-by-step tasks. And if they get stuck, learners can follow a live code-along video to see how our expert instructors find one of many possible solutions.
Our Customers
We're on a mission to make data fluency accessible to millions of people and businesses around the world. We've grown our learners to nearly 7 million, and have more than 1,600 business customers, including Google, Intel, HSBC, eBay, PayPal, Uber, and more. And through DataCamp for the Classroom, we've provided free access to DataCamp to more than 350,000 students from 180 countries.
Our Partnerships
DataCamp is committed to supporting data education for all. As part of our mission to democratize data skills for everyone, we currently have over 30 nonprofit partners—like DataU, Blossom Academy, and Duke University's Fuqua Volunteer Corps—that we'll provide with free access to DataCamp for more than 25,000 learners around the world. Our focus on supporting these communities has only become more critical during a global pandemic, when now more than ever, learners need to build data fluency for a more secure future.
"For a lot of students, it's easy in a pandemic to just feel lost," said Jeremy Petranka, Assistant Dean of Duke Fuqua's Master of Quantitative Management (MQM) Program. "It was important for us that they feel supported by Fuqua and by DataCamp. Being able to say early on that DataCamp was behind them made them feel really valued."
To learn more about DataCamp being named a Technology Fast 500™ award winner, read the press release.
About Deloitte's 2020 Technology Fast 500™
Now in its 26th year, Deloitte's Technology Fast 500™ is a ranking of the 500 fastest-growing technology, media, telecommunications, life sciences, and energy tech companies in North America. Overall, 2020 Technology Fast 500™ companies achieved revenue growth ranging from 175% to 106,508% from 2016 to 2019, with a median growth of 450%.
In order to be eligible for Technology Fast 500 recognition, companies must own proprietary intellectual property or technology that is sold to customers in products that contribute to a majority of the company's operating revenues. Companies must have base-year operating revenues of at least \$50,000 USD, and current-year operating revenues of at least \$5 million USD. Additionally, companies must be in business for a minimum of four years and be headquartered within North America.