DataCamp Named One of 500 Fastest Growing Companies in North America
Deloitte recognizes DataCamp for the third consecutive year on the Technology Fast 500™.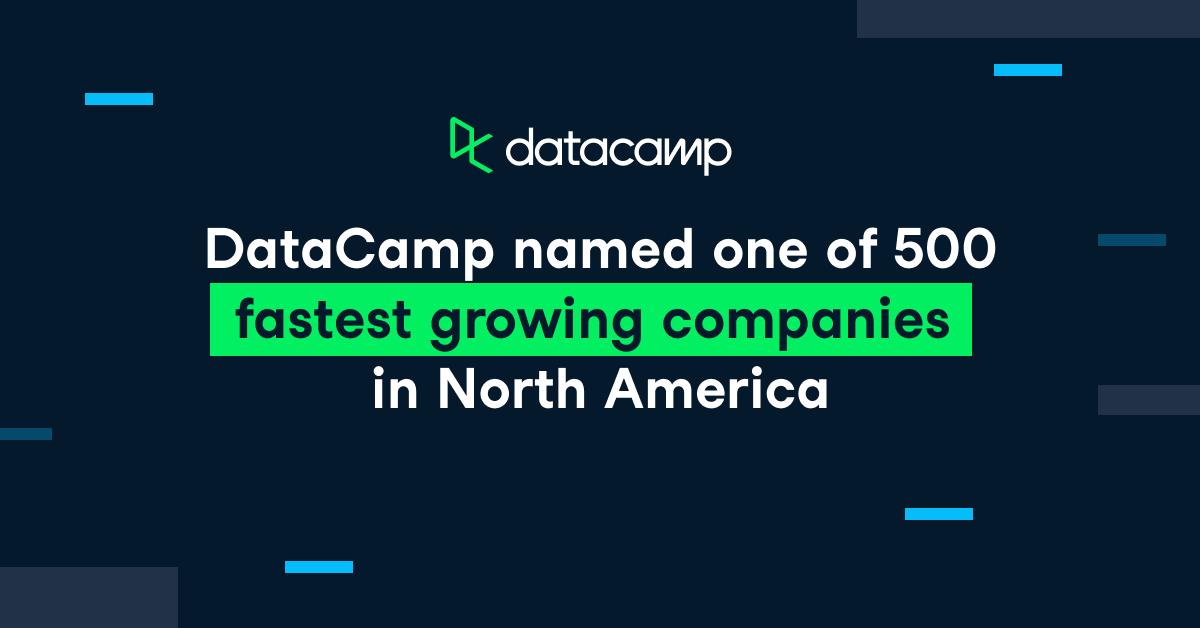 DataCamp is proud to announce that for the third year in a row, we've been recognized on Deloitte's Technology Fast 500™, a ranking of the 500 fastest-growing technology, media, telecommunications, life science, fintech, and energy tech companies in North America.
"We are thrilled to be recognized for the third consecutive year on Deloitte's Technology Fast 500," said DataCamp CEO Jonathan Cornelissen. "We live in a different era now. Every industry is digitized and generating enormous volumes of data, but many organizations don't have the right skills to put that data to work and outpace competitors. Just as companies had to develop computer literacy and software literacy in the past, now we must become data literate. Data literacy is driving the transformations of every industry and enables every department to deliver better results.
"To more effectively support our business customers and learners on their path to data literacy, we've expanded and evolved our platform to include robust certifications for data scientists and data analysts, career services and a job matching product to make it easier to hire data talent and to get hired, and we've built an in-browser collaboration tool to bridge the gap between learning data science and actually doing data science."
The most holistic data upskilling platform
DataCamp offers the industry's most holistic data upskilling experience for individuals and organizations to bridge the data skill gap, make it easier to hire and be hired, and improve collaboration and sharing of data insights.
Learn the most in-demand data skills
DataCamp provides interactive data analytics and data science upskilling for every role, from non-coding essentials for business to data science and machine learning, all taught by experts in the field. Best of all, there's no installation or download required—all courses and coding exercises run right in your browser, including interactive learning content in Python, R, SQL, and much more. As the leaders in data education, we've continued to expand our curriculum to include more content covering basic data literacy skills, BI tools like Tableau and Power BI, and data visualization, as well as more advanced topics like Plotly, Dask, and AWS Cloud Concepts.
This year, we also created an entirely new way for learners to apply their data skills and learn from others in the community with DataCamp Competitions. Each competition challenges learners to analyze datasets and solve real-world problems by submitting an analysis created in Workspace. Learners can see the work of their peers, upvote exceptional submissions, and earn cash prizes for winning submissions.
We've also made it even easier for learners and admins to navigate the DataCamp platform by organizing one's learning experience and progress all in one place, and giving admins quick access to group management settings and organizational insights.
Learn faster with Precision Learning Plans
Looking ahead to 2022, we're very excited about the upcoming launch of Precision Learning Plans. This will be the fastest way for individuals and data-driven teams to grow their data skills.
Once live, companies will be able to customize the learning plan to meet their goals. Learners will take a short assessment to understand the skills they have today and the skills that they need tomorrow. Once complete, they'll receive a Precision Learning Plan that's exclusively targeting the training they need to take their data skills to the next level.
It's effectively a way to fast-forward your learning. By receiving a personalized and adaptive learning path, you can reduce the time it takes to upskilll and achieve learning goals faster. That amounts to massive time savings for individual learners, because you're not learning what you already know, and an even bigger time savings for companies when applied across an entire organization. If you're interested in learning more about precision learning please reach out to your Customer Success Manager.
Certification and Career Services
Despite the growing demand for data professionals, it's difficult for individuals to demonstrate their skills to potential employers, and for companies to verify that candidates actually have the job-ready skills they need. Our Data Scientist and Data Analyst certifications use a combination of timed assessments, a coding challenge, and a case study-style presentation evaluated by real experts to verify that a learner has both the technical and communication skills needed to be successful in their role.
Once a learner has been certified, we also provide them with critical tools and resources they need to land their dream jobs in data science. DataCamp's Career Services includes access to specialized career experts who understand the data science job market, resume reviews, and workshops on topics like interview preparation strategies.
A better way to hire (and get hired) with DataCamp Talent
We know that recruiting data scientists and other data professionals is extremely competitive and highly complex. We're making it easier for organizations to find exceptional candidates with DataCamp Talent. We help hiring managers find professionals with the specific skills you're looking for to identify the right candidates faster, and we remove hiring biases to focus on a candidate's skills above all else.
We want to make it easier for individuals to get matched with potential employers, too. DataCamp Talent allows individuals to easily create a polished professional profile on DataCamp to showcase their skills and data science portfolio, and get matched to companies who are interested in their experience.
Start analyzing and exploring data instantly—no setup required—with Workspace
We believe doing data science work should be easy, enjoyable, and collaborative, which is why we built DataCamp Workspace—an in-browser coding environment where you can apply your data skills to write real code, run analyses, and share your insights. Workspace lets you get started right away, whether you want to code from scratch using your own data, or start from one of our ready-to-use datasets or templates. Through our one-click publishing tool, you can easily share your analyses with others and create a professional portfolio featuring your work.
Measure and report on the impact of your organization's learning program
DataCamp allows organizations to gain actionable insights into learning programs and measure ROI. With DataCamp Signal skill assessments, you can benchmark your team's skills and continually reassess progress over time, and visualize skill strengths and gaps across learners with the Skill Matrix.
We also know that reporting on the impact of your learning programs takes time. That's why we created Custom Reports, a one-click report builder that makes it easy for everyone to demonstrate your learning program's ROI. With Custom Reports, you can create professional reports in one click from our pre-made templates, get detailed insights into your learning program, and schedule automated reports to make sure all the right stakeholders stay informed.
Integration with enterprise systems
We make it simple for organizations to plug DataCamp into their existing learning ecosystems. Single Sign-On (SSO) provides learners with a seamless one-click sign-in experience using your existing SSO provider, and LMS/LXP integrations allow you to centralize learning activity data and add learning content to your learning management system.
Our customers
We're on a mission to help everyone thrive in a data-powered world, which is why DataCamp makes data literacy accessible to millions of people and businesses across the globe. We've grown our learners to 9 million and have more than 2,000 business customers, including Google, PayPal, HSBC, BNP Paribas, Barclays, Liberty Mutual Group,​ and more.
Our DataCamp Donates partners
We launched DataCamp Donates to help organizations around the world bridge the data skill gap by providing one year of free access to DataCamp for their members. The global unemployment rate grew by 35% from 2019 to 2020, yet there's a serious shortage of skilled tech workers to fill the future-facing jobs requiring data literacy. The reason is simple: a widespread lack of affordable, high-quality data education. We've already partnered with 125 organizations in more than 90 countries, and have donated more than $10 million in DataCamp scholarships so far. We're currently accepting applications from new partner organizations through December 24, 2021. Click here to apply!
About Deloitte's 2020 Technology Fast 500™
Now in its 27th year, the Deloitte Technology Fast 500 provides a ranking of the fastest-growing technology, media, telecommunications, life sciences, fintech, and energy tech companies—both public and private—in North America. Technology Fast 500 award winners are selected based on percentage fiscal year revenue growth from 2017 to 2020. Click here to learn more.