DataCamp Promotion: Our September sale is now on!
Looking to get started with data science or take your data skills to the next level? Now's the time. Get over 60% off to learn Python, SQL and R.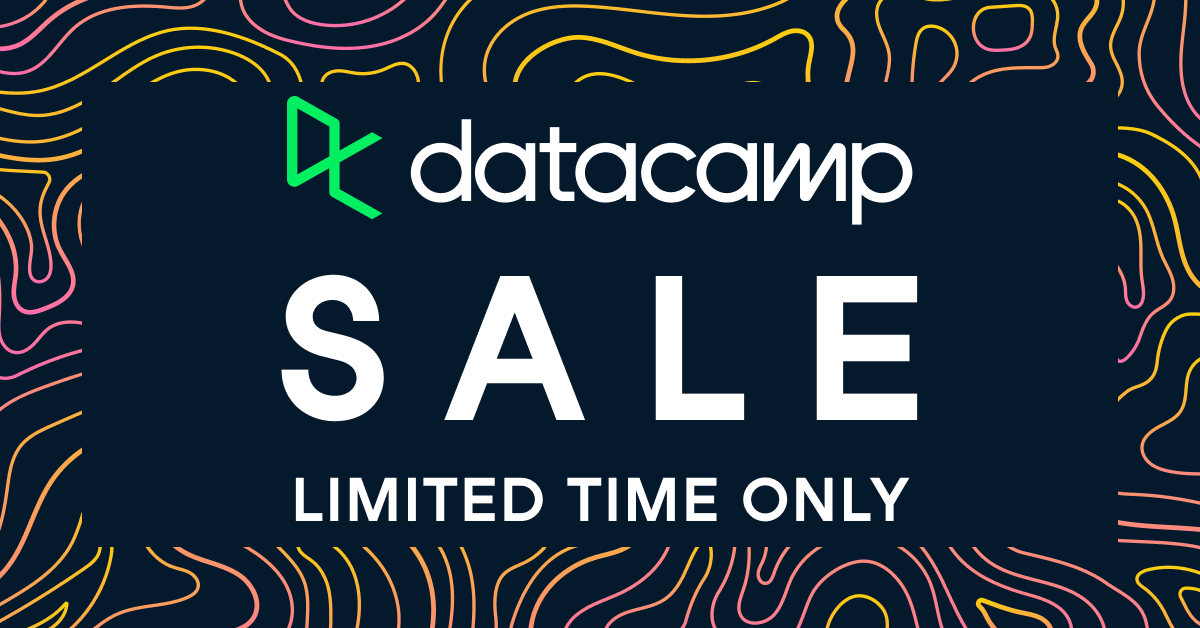 DataCamp is proud to announce that we're running a fall sale this September—subscribe today and you can get great deals on two of our top plans! In this blog post we discuss how you can make use of this sale, including how to claim your discount and what getting a DataCamp plan can do for you.
What's being offered in this fall sale?
For individual learners, we are offering a discount of over 60% on the price of our Premium plan. For organizations looking to upskill this fall, we are offering over 33% off the normal price of our Professional plan!
How do I claim these price discounts?
We believe in making things easy: Simply purchase a Premium or Professional plan before September 22 (check out our promo here or on the sale's banner at the top of your screen), and the price discount will automatically be applied—no need for promo codes!
What will I get with this promo?
You'll get access to our catalog of more than 350 courses in data science, data literacy, and BI tools—all led by experienced instructors and feature hands-on, interactive exercises. You'll also gain access to more than 60 assessments to put what you've learned to the test and more than 80 real-world projects to apply your skills. To practice what you've learned and keep your skills sharp, our mobile app comes with exercises that can be completed within five minutes.
I'm looking for a data science job. What will I get with this promo?
DataCamp's Premium plan will prepare you for a job in data science. In addition to gaining access to all DataCamp learning content, you'll also have access to our data science Certification program and Career Services to help you demonstrate your skills to employers and land your dream job in data science.
I'm looking to upskill my team. What will I get with this promo?
You'll get access to features that make it easy to manage your team's experience on DataCamp, including admin roles and permissions, the ability to set assignments with deadlines to individual team members, and live chat support.
I still need some time to decide.
No problem! If you'd like to take DataCamp for a test drive, we're currently offering free access to three of our most popular courses for a limited time: Introduction to Python, Introduction to R, and Introduction to SQL. You can also always take the first chapter of any of our courses for free with a Free personal plan.
Sign up today to take advantage of this deal!