Get a Free Week of Access to DataCamp
Enjoy unlimited FREE access to DataCamp's courses and resources from 18th to 24th July.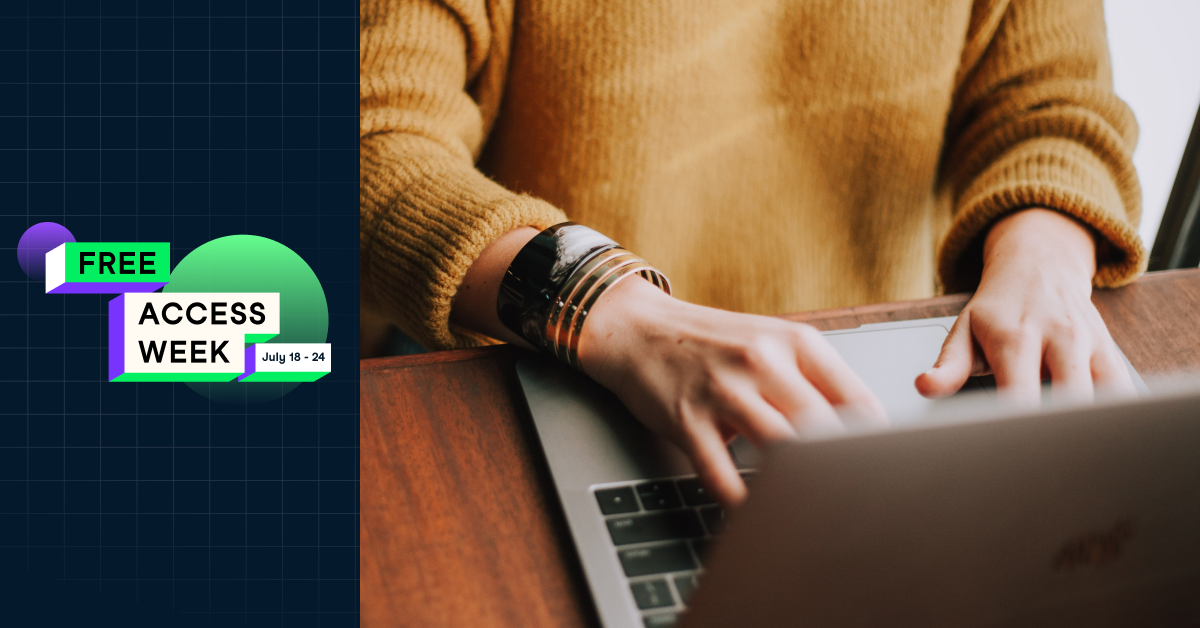 What is Free Week?
At Datacamp, we are committed to our mission of democratizing data skills for everyone. Data literacy has become increasingly important, and we believe that we can do our part to help educate the world.
So far, DataCamp has taught over 10 million individual learners and 2,500 data-driven companies to help close the data literacy gap. Now, we want to go further by bringing you our very own Free Week.
Free Week gives unlimited week-long access to DataCamp's entire platform and is available to anyone, anywhere, at any time between the 18th to 24th of July. So whether you're an individual looking to learn or develop your programming skills, or a business leader looking to upskill your team, our Free Week is suitable for everyone.
This means that during our Free Week, anyone can access our entire library of 387 courses, 83 projects, 55 practice sessions, and 15 assessments across Python, R, SQL, Power BI, Tableau, and more. Not only that, but to ensure you finish the week off with confidence, you also have access to the following resources:
For Individuals - Free Access Until 24th July
Our all-week free access to DataCamp allows anyone from any career or educational background to learn and upskill their data literacy skills. If you're just starting your data literacy journey, our team has prepared tutorials and challenges to guide you through our many courses.
DataCamp is also an excellent environment for intermediate and advanced data practitioners to boost their data skills via our unlimited resources:
Our

Data Analyst and Scientist Certifications

are a great way to showcase your skills to employers

DataCamp's recently added a

Jobs

search portal can help you find your dream job. Complete a personalized profile that highlights your skills and have potential employers reach out to you directly.
How to register
To register for our Free Week, you need to visit our Free Week page. All you need to do is enter your email address to sign up and you're all set to learn and enjoy your free access to DataCamp!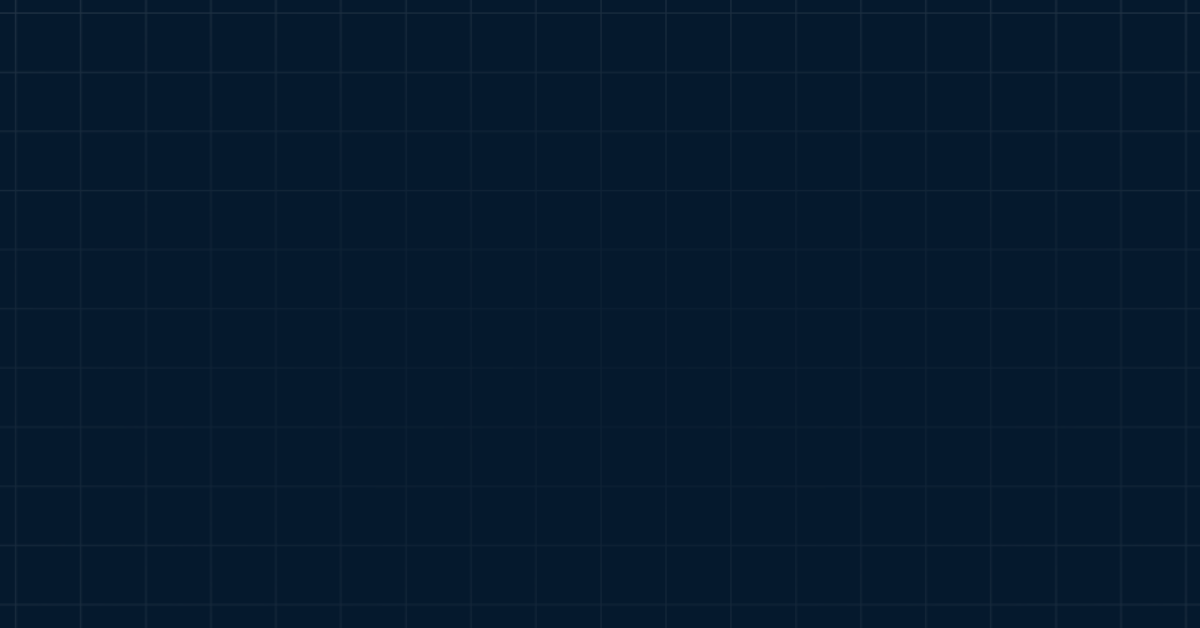 Free Week access for individuals starts at 9 am ET on 18 July and finishes at 11.59 pm ET on 24 July.
The best courses to try out
Our inclusive e-learning platform is suitable for everyone: from those with no data literacy background to those proficient in many programming languages and data skills. That said, below is a list of example courses for every level to give you a glimpse into our comprehensive course library:
Beginners courses
Intermediate courses
Advanced courses
Projects and challenges
Unsure about where or how to start your data literacy journey? Not to worry, as we have prepared you with free and accessible projects and challenges to guide you through Free Week.
We have prepared an array of challenges in R, Python, and SQL, for those looking to test their data skills. If you're looking to hone your abilities, you can use your Free Week access to see how many you can complete!
If you're looking for some longer-term challenges, we have a range of articles you might find useful:
You can also check out our other projects, which provide ready-to-use, real-life data for you to put your data and programming skills into practice. By using DataCamp Workspace, you can conduct data analysis on multiple datasets in a risk-free environment. Workspace is strongly recommended for those at an intermediate or advanced level, as it allows you to build your own shareable data science portfolio.
Still not sure about where to start? That's okay! Try our skill or career tracks for an even more extensive and well-curated learning experience.
With our

skill tracks

, learners can acquire new skills fast from courses that combine short expert videos with immediate hands-on-keyboard exercises.

Our

career tracks

are specifically designed by industry experts to ensure that you are equipped with the necessary skills you need for your new data science career.
For Teams - Free Week of Access
We understand that data illiteracy is also an existing problem in the workforce. Employees with low data skills face numerous challenges. For example, they are 60% more likely to feel burned out, unproductive, or unhappy at work. We are here to help.
DataCamp for Business is ideal for those keen on upskilling themselves and their team in data literacy. If you are interested in DataCamp for Business, this is your opportunity to see how DataCamp can help your employees master the data skills they need for their roles.
With our business subscription, you and your team can upskill your workforce, collaborate in data analysis projects, and simplify your data recruitment process.
How it works:
Build learning programs

: Our team is here to help create custom data literacy learning paths to help your team excel

Report on your ROI

: analyze your team's progress through our data visualization tools

Upskill your company

by investing in professional development for all roles and skill levels

Get started and scale

using DataCamp's integrations
DataCamp for Business has partnered up with companies from different fields, including top 8 consulting companies, 180+ government agencies, and 80% of the Fortune 1000 companies. Join DataCamp for Business along with more than 2500 companies to level up your workforce.
How to register
To register for DataCamp Teams, head over to our Free Week Teams page. You will need to enter your credit card details to sign up for your free week.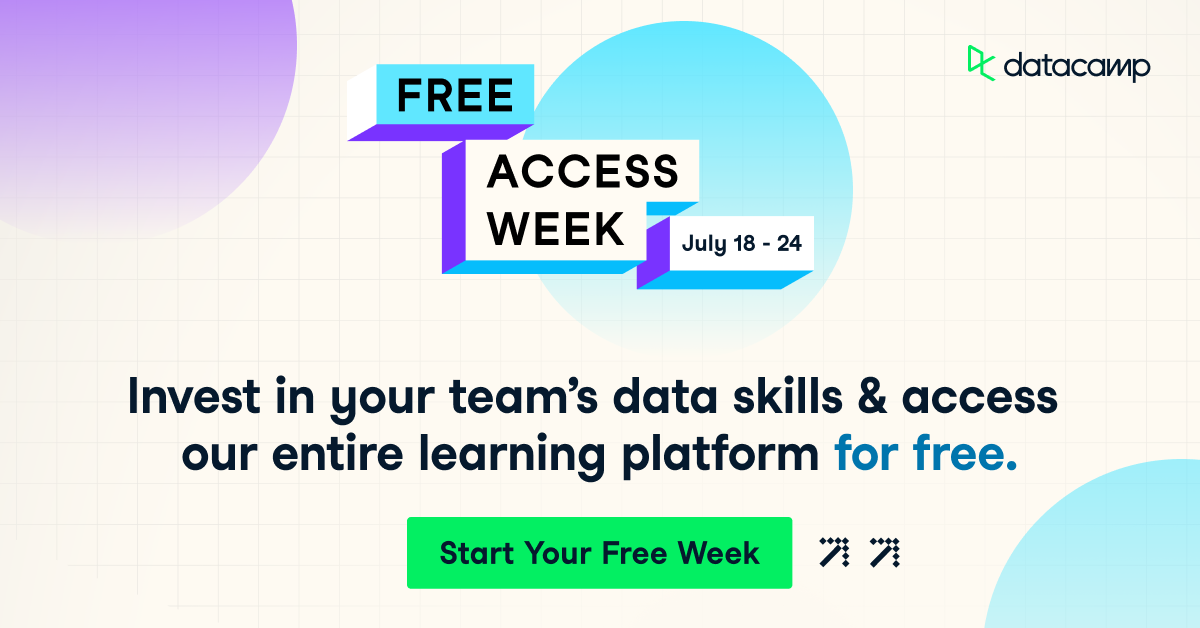 You will receive seven days of free access from the point of sign-up, and your payment will automatically renew after that period. After your free week of access, you'll be billed at $300 $149 per user billed annually.* Cancel anytime.
*At sign up, you'll see $300, but we'll apply the discount next week before you're charged (and email you in advance). Enjoy your discount!
However, if you do not want to enter your card details, you can still try out DataCamp on an individual Premium account.
Adding teammates
Teams help you to organize your company's DataCamp group further. For example, you can create teams to segment different departments, technologies, skill levels, geographic regions, and more, to tailor your company's learning environment.
To create a team, select the "Create team" option on the left-hand panel selection of your DataCamp for Business.
How do you add team members?
If they are not enrolled in the group, you can include the team association when you invite them.

If they are already enrolled in the group, you can add them via the members' tab.

Within a team's page, you can select "invite members" or "create invite link."
The best courses to try
If you're looking for the ideal place to start upskilling your business' data literacy, we've picked out some courses to give you inspiration:
Process for cancellation
If you decide not to continue your subscription after your free week of access, you can request to cancel your business subscription to prevent auto-renewal by reaching out to the support team or your customer success manager or by using the link on the dashboard.
Sign up now
We hope you are as excited as we are about Free Week! It's the perfect chance for you or your team to gain the essential data skills or build on their existing knowledge. Register yourself or your team today and start your learning journey.