Employee Spotlight: Putting the Team and the Customer First
Q&A with James (Mac) Stephens, Customer Success Manager at DataCamp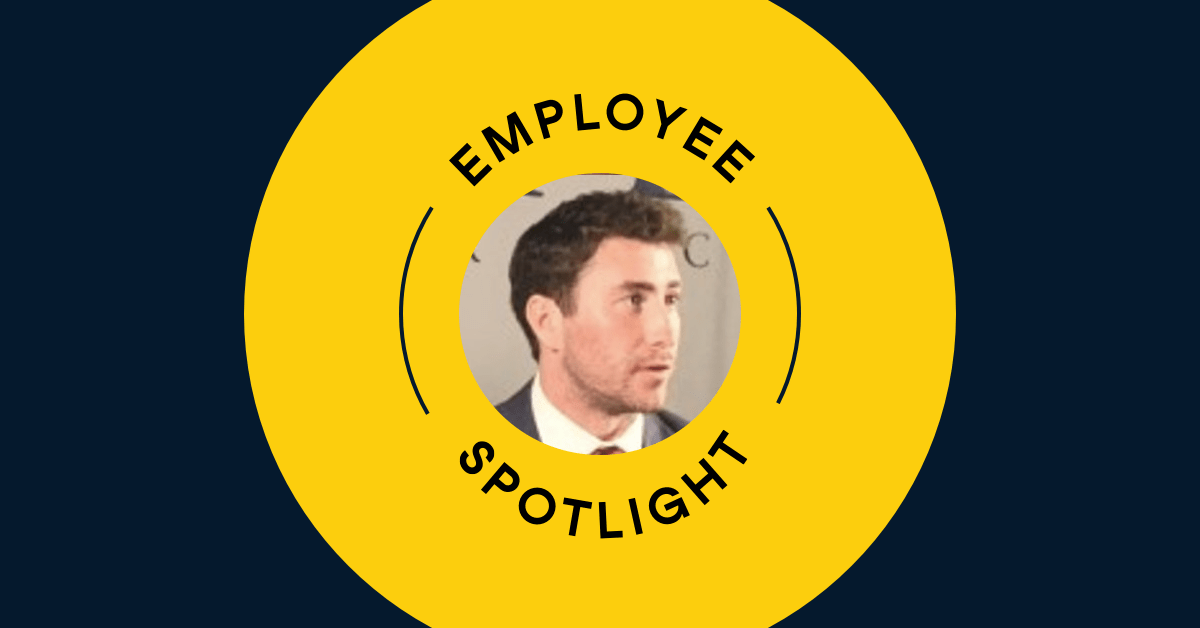 What was your journey to joining DataCamp?
I was fortunate to have found DataCamp right when I finished my studies at Hobart and William Smith Colleges (HWS). I learned about DataCamp through my college's Center for Career Services and alumni network. A Senior Account Executive at DataCamp, Sam Seath (HWS Class '14), had let HWS know about an opening on the Sales team based in New York. After a few interviews, it felt like a great fit, and I was offered a role as a Business Development Representative!
Describe your current team. What do you find most interesting about your role?
I moved from the Sales team to the Customer Success team in January 2019. Our CS team is made up of thoughtful, engaging, curious, and most importantly, entertaining people. Each member of the team is a pleasure to work with. We are constantly learning from one another, picking up new ideas, and continuously pushing each other to improve in various aspects of our roles. I've really learned a lot working with this crew and I'm looking forward to what the future holds for the DataCamp Customer Success team.
What I find most interesting about my role would be the wide range of people and personalities I find myself working with. I can be on a call with an intern at a company who wants to learn more about DataCamp, and then 30 minutes later, I can be having a conversation with a Chief Data Officer of a Fortune 500 company about creating a training program for thousands of analysts. It just goes to show how many people in various roles and different company sizes can utilize DataCamp to improve their skill sets and grow their data skills.
How has your career grown since joining DataCamp?
When I started out at DataCamp, I was a Business Development Representative on the Sales team, sending hundreds of emails and calls a week to engage our user base and learn more about how companies were leveraging our platform. The goal was to open up opportunities for us to work with companies whose employees were actively using DataCamp. After about 6 months, Adam Kuznia (who was the head of CS and is now our CRO) thought I would be a good fit for a new role: Customer Success Representative (CSR). The CSR's role is to engage our business clients to support their teams and help them to successfully leverage everything DataCamp has to offer. I also work with organizations to expand access to DataCamp for larger groups of their employees or for the entire company. This past May, I was promoted to Customer Success Manager, which means the accounts I now manage are much larger, covering hundreds or even thousands of employees. My clients represent various industries ranging from Finance, Healthcare, Tech, Government, Manufacturing, Transportation, and more. I enjoy helping them to successfully reach their goals with DataCamp.
What are you most excited for in 2020?
Hopefully a return to some sort of normalcy! As nice as it is working remotely, I do miss the views from our Empire State Building office, and I miss collaborating with teammates in person, especially when I have quick questions or comments. Also, I'm really looking forward to/keeping my fingers crossed for the return of the NCAA and NFL Football seasons.
Besides the obvious, I'm looking forward to seeing my clients succeed on DataCamp. This year, I've worked with quite a few customers to align on training programs and paths that are specific to the needs of hundreds or even thousands of employees. I'm excited to see how these programs will come to fruition and it's really great to know that we play a major role in spreading data fluency across some of the largest companies in the world!
What do you like best about working for DataCamp?
My favorite thing about working for DataCamp is the freedom that DataCamp provides to its employees. As long as you accomplish what you need to get done in a timely manner, nobody is going to ask questions. DataCamp allows us to balance work and life in a way that suits the individual. That being said, in a client-facing role, requests are coming in at all hours of the day, so it helps that DataCamp allows us to work on our own schedules without being stuck in a set 9 to 5 schedule.
What is favorite DataCamp cultural value and why?
"Put the team first." When everyone adapts that team-first mentality, we all win. Whether it's bouncing ideas off one another, inviting team members from other departments to join calls, or just having conversations at lunch, we're always trying to support one another and help each other improve in any way possible. Currently, DataCamp is at a point where we're growing rapidly and there are big things on the horizon. If we all share a common goal and continue to put the team first, there's no limit to where this company can go.
If you could have anyone as your mentor, who would it be?
I would have to go with Welles Crowther. Also referred to as "The Man in the Red Bandana," Welles Crowther was an equities trader in New York who worked in the World Trade Center during 9/11. When the attacks happened, he could've made it out with his life, but he was a hero and went back in and helped rescue at least 18 others from the building. He sacrificed his life in order to save others, and that's the type of person I would want as my mentor. I would highly recommend people learn about his story and watch a great documentary about his story: Man in Red Bandana.
Why do people call you Mac?
My full name is James McInerney Stephens. Since we already had several Jameses in our family, they had to mix it up somehow. Ever since I was a baby, everyone I know has called me Mac. It's kind of funny at this point—all of my family and friends refer to me as Mac, but all of my clients call me James. At this point it's pretty interchangeable!
Would you like to join Mac at DataCamp? We're currently hiring in New York; London; Leuven, Belgium; and remote locations. Check out our open roles.
---
---
← Back to blog