DataCamp and Tableau Partner to Teach Young People Data Visualization
DataCamp partnered with Tableau for Teaching to provide world-class courses on Tableau to teachers and students around the globe for free. Find out how you can help improve your students' data literacy with DataCamp for Classrooms.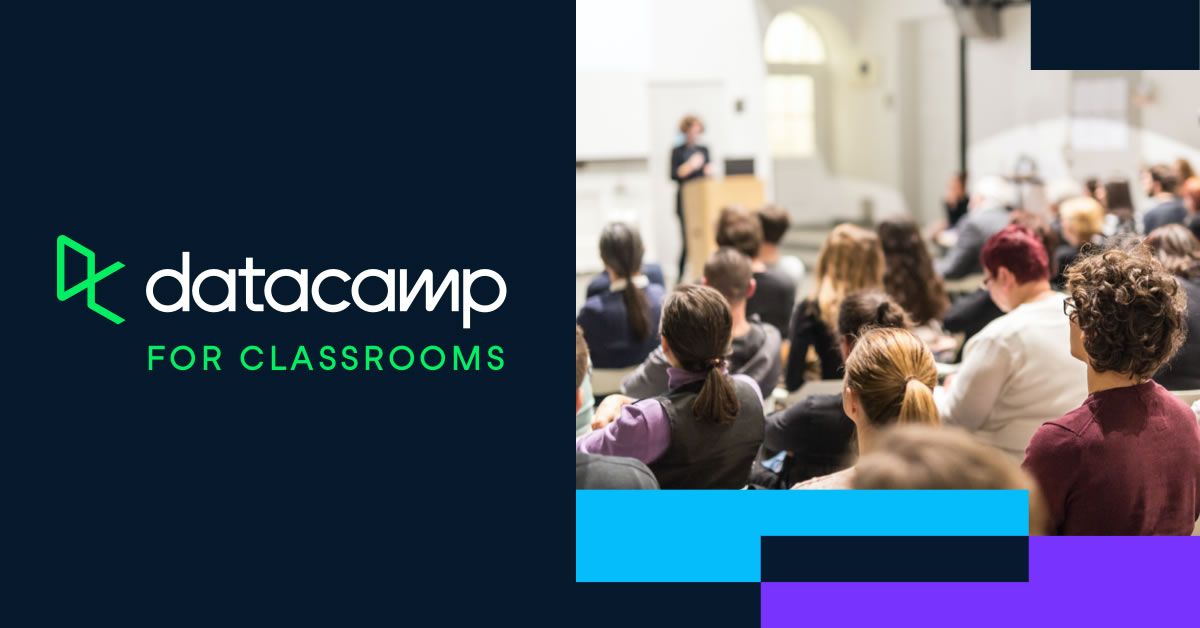 Updated March 21, 2022: The DataCamp for Classrooms x Tableau for Teaching promotion has ended. Thank you to all the teachers who applied. The original announcement is below:
DataCamp is proud to announce our partnership with Tableau to make world-class data science software and education widely available to the teachers and students of the world. Every teacher with both a DataCamp for Classrooms account and a Tableau for Teaching license can apply to gain free access to DataCamp's interactive Tableau courses for themselves and their students. We see this as an important opportunity to bring STEM education fully into the 21st century with a partner just as dedicated as us to democratizing data science.
Data is being consumed at an astronomical rate but are all students given the same opportunity to see and understand data? Do instructors have the resources easily and readily accessible to prepare the next generation of students? The answer, sadly, is a resounding no.
"Tableau for Teaching is excited about the partnership with DataCamp," says Jessica Lyons, Senior Manager of Tableau for Teaching. "The mission of arming students and instructors with the resources needed to create a data-literate world aligned perfectly with DataCamp's goals."
The feeling is mutual. At DataCamp, we see Tableau as an ideal platform to get high school and college students excited about data. No other data visualization tool caters to novices and experts alike as deftly as Tableau does. Teachers armed with these resources will empower their students to better understand and analyze the data in their lives, preparing them for tomorrow's data-driven industries. With just some basic knowledge of Excel/Spreadsheets and a good data set, young people can create powerful and inviting visualizations of the data that matters to them most.
How do teachers apply?
It's a simple three-step process for qualified teachers to apply for Tableau access on DataCamp:
Fill out the official DataCamp + Tableau application form
DataCamp and Tableau representatives will review all applicants within a week of the submission date to verify their status in both programs. Once verified, you'll receive a confirmation email once Tableau training has been added to your DataCamp group. All the users you invite into that DataCamp for Classrooms account will get immediate, free access to our Tableau courses.
What do students and teachers get with DataCamp + Tableau?
DataCamp for Classrooms offers free unlimited Professional licenses for you and your students to learn on DataCamp. That means access to over 350 courses in R, Python, SQL, Git, Scala, Spreadsheets, Excel, as well all of our projects, practice modules, the mobile app, and more. And teachers get a group dashboard with all the functionality they need to run a successful classroom: the ability to create teams, give assignments, and monitor progress. College/university teachers from around the world and high school teachers in the US and UK are eligible to apply.
By also becoming a recipient of Tableau for Teaching and completing this form, teachers will gain access to our six outstanding courses on Tableau, including Introduction to Tableau, Connecting Data in Tableau, and Analyzing Data in Tableau—everything you and your students need to go from novices to experts. Just like all our other courses, they can run entirely in-browser (no additional software required), or users can download the datasets and run our exercises on their desktop-based Tableau clients. Previously reserved for Premium and Enterprise DataCamp customers, these in-demand courses will completely change how educators around the world teach students Tableau.
If you're a teacher, apply to these revolutionary edtech programs today (students, please refer this offer to your STEM teachers)! This is the only way to learn to become a Tableau whiz at your own pace for free.
To apply for free Tableau courses through DataCamp for Classrooms, click here.
To apply for a free DataCamp for Classrooms account, click here.
To apply for a free Tableau for Teaching license, click here.