At DataCamp, our mission is to empower students with the right data skills for the future. We believe data education is a Basic Human Right, and that is why we launched DataCamp for Classrooms in 2017 – an initiative to give free DataCamp access to college and university professors as well as their students. In 2021, with the clear vision of furthering the democratization of data science, the scope of DataCamp for Classrooms was expanded to include free access for US high school classrooms.
In 2021, over 100,000 students and teachers in over 3,750 classrooms were enrolled in DataCamp for Classrooms. This means free access to the DataCamp's growing curriculum of expert content — 360+ interactive courses, 50+ curated learning paths, and 100+ real-life projects — and a variety of tools designed to increase engagement and track students' learning progress. One of the most powerful tools is DataCamp Workspace. Students enrolled in DataCamp for Classrooms have unlimited access to Datacamp Workspace, an online IDE that allows them to gain hands-on coding experience by working collaboratively on data projects.
In this post, we will explain what DataCamp Workspace is and how teachers and instructors can leverage this tool as a part of their course work to improve their students' data science skills.
What is DataCamp Workspace?
DataCamp Workspace is an online integrated development environment (commonly known as IDE) which allows users to write code, analyze data individually or collectively, and share data insights. In other words, you can think of DataCamp Workspace as a kind of Google Docs specifically conceived for data science. It is the perfect tool to go from learning data science to utilizing it.
In some aspects, DataCamp Workspace resembles Jupyter Notebooks, and one of its strengths lies in being fully interoperable with this platform. In fact, it is possible to switch seamlessly from the DataCamp's notebook editor to JupyterLab. Workspace includes key features, such as real-team collaboration, commenting, tagging, and sharing, which are surprisingly often still missing in the data science landscape.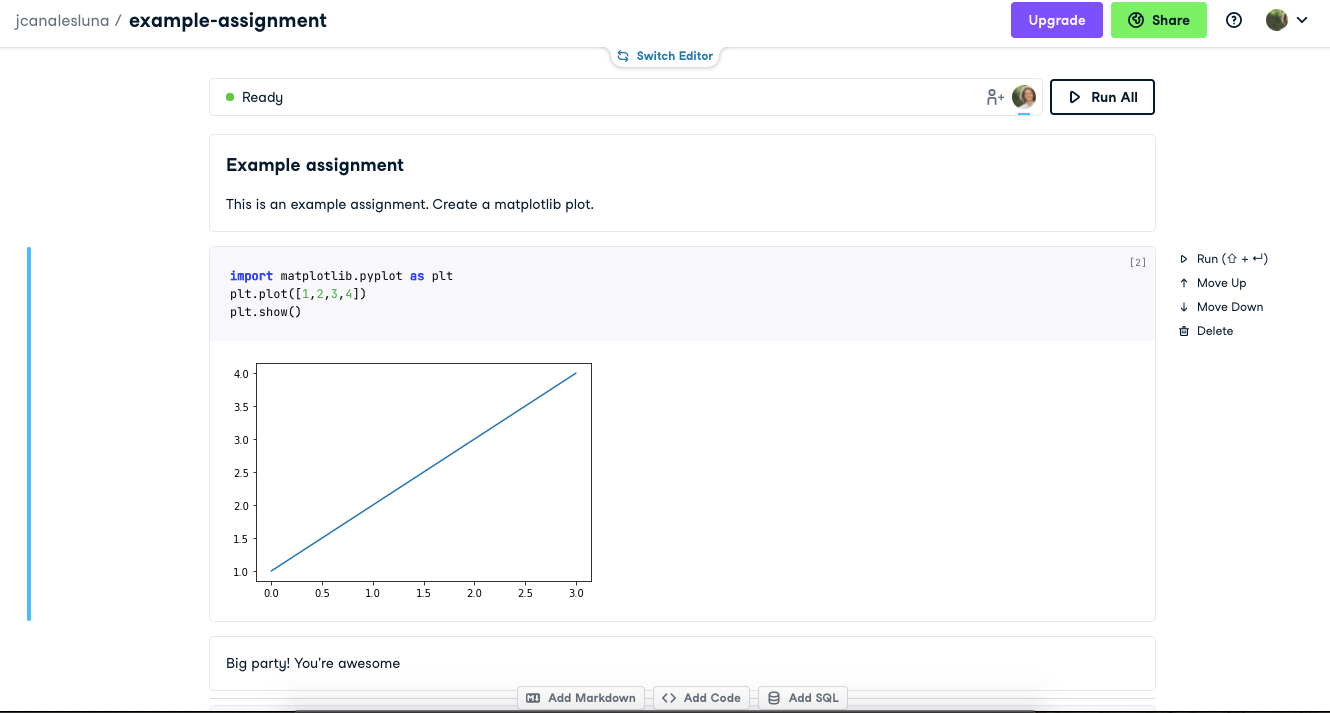 Workspace is a cloud-based, in-browser tool, meaning that it requires zero installation and zero downloading to start using it. This is a great time-saver in the classroom, as no setup is required on students' computers.
Workspace supports R, Python, and SQL, and is available on Mac, Windows, and Linux. All software and commonly used packages for data science are available. It comes with an intuitive and user-friendly interface, making it a great tool for all kinds of data profiles and ideal for students.
How to Use Workspace in the Classroom
Workspace was conceived as a central tool for teachers and students enrolled in DataCamp for Classrooms. It is important to note that all groups that applied for DataCamp for Classrooms are on the Teams plan and every member of the group receives a Teams license for free! The same holds for the DataCamp Donates groups. The Teams plan is designed for small and large DataCamp groups looking to collaborate on data science projects. Editors—usually instructors and teachers—can create, edit, execute, publish, and share workspaces and integrations in the group account.
There are at least three use cases where Workspace can support education scenarios:
Workspace templates and datasets
Foster student collaboration
Build your own assignments based on your lectures/coursework
Workspace Templates and Datasets
Beginnings can be hard. Familiarizing and becoming fluent with an IDE, let alone a programming language, can be overwhelming and time-consuming, especially when students have limited data or coding literacy. To mitigate the impact of a cold start, Workspace includes useful resources to help you get started, including:
Workspace Templates
Build a data-driven dashboard in minutes with customizable templates. Workspace templates give you access to pre-written code, making it easy to build visualizations and reports without having to set up a notebook or write your own code. With Workspace templates, you'll be able to:
Get insights quickly with pre-written code
Save setup time with pre-installed and imported packages
Share your insights as influential publications
Go from learning to doing data science
Workspace Datasets
Workspace includes a full catalog of ready-to-use datasets that you can analyze and solve real-world problems. Apply your coding skills to a dataset from our curated library and create a data science portfolio to store your findings.
Foster Student Collaboration
DataCamp Workspace supports both real-time and asynchronous collaboration in notebooks and sharing your workspaces with different access rights. This feature is perfect for students to work on coding assignments or data science projects with peers or classmates. It can also be a great foundation for trying innovative coding methodologies, such as pair programming, which can improve students' learning experience, increase engagement and encourage interaction between students.
To allow students to collaborate with others on the same project, you just need to set up the sharing configuration to control who gets to view or edit the workspace and/or publication.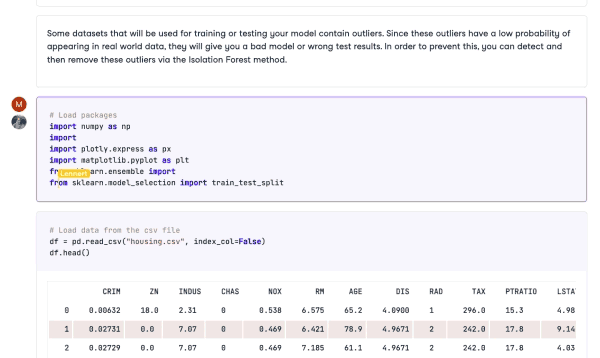 There are several roles you can grant to collaborators when sharing a workspace (viewer, commenter, editor, and owner). The availability of roles can be very useful in tailoring the assignment or project to the specific needs of the teacher and the students.
Build Your Own Assignments Based on Your Lectures/Coursework
The best strategy to improve data fluency is learning by doing. This is the school of thought behind all DataCamp courses that students enrolling in DataCamp for Classrooms can access. Workspace is the perfect tool for teachers willing to adhere to this philosophy.
Say a teacher wants their students to complete a Jupyter Notebook as part of an assignment. All they need to do is share the assignment link with the students in the group account. Once students have completed the assignment, they just need to share their assignment link with the teacher. When reviewing assignments, the teacher doesn't have to worry about reproducibility, as Workspace ensures under the hood that all the required software and packages are installed.
Conclusion
If you are a teacher or professor thinking of applying for the DataCamp for Classrooms programme, we hope this post helps you make up your mind. If you are already using it, we hope these lines will help you take your course to the next level.
We do understand that there is a lot to take in. If you want to know more about how to leverage Workspace for Classrooms, we recommend you watch this webinar recording, where Filip Schouwenaars will show you how to:
Add a notebook to GitHub repository
Create a shareable URL
Use a link to see what the experience will be for end-users


Finally, we highly recommend you read the Workspace documentation, which extensively covers how to use the tool and how you can use Workspace for Classrooms.