How Workspace is enabling learners across the globe
From upskilling to portfolio curation - see how learners are utilizing Workspace.
We sat down with our DataCamp Workspace users to learn more about their unique experiences while using the tool.. Who would've thought that a simple in-browser tool could transition to such a multi-purpose platform? Keep reading to find out how.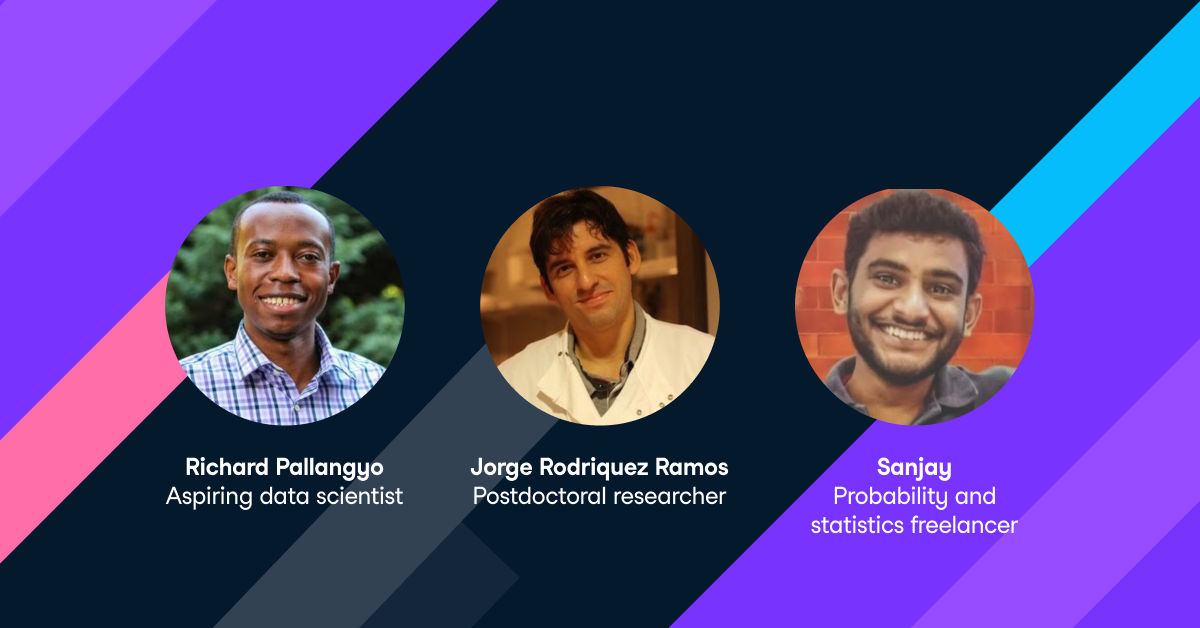 The ideal tool to create your portfolio
Our first stop is with Richard Pallangyo—originally from Tanzania, Richard is currently living in the United States. After successfully completing his undergraduate degree, he is now looking to pursue a career in data science and software.
Through his learning journey on DataCamp, Richard discovered Workspace: "As long as I have access to the internet, I think I will prefer to use Workspace." We couldn't agree more! Richard has a total of nine Workspace publications that he used to build a portfolio for various job interviews. During one of his interviews, he leveraged his DataCamp profile to share his extensive portfolio.
They found one of my projects to be very interesting and wanted me to talk about it in the interview.

Richard Pallangyo
The data visualization opportunities
Next, we talked to Jorge Rodriquez Ramos, a postdoctoral researcher in biophysics. In Jorge's world of academia, the go-to programming language is usually MATLAB, but after initially discovering R, he came across Python and never turned back.
Jorge got started with DataCamp through a colleague's recommendation and ended up completing 14 courses!.
After upskilling on DataCamp, Jorge utilized Workspace to put his newfound learnings to the test. He used Workspace to create simple but very clear data visualizations to share with his colleagues, as an alternative to the more traditional, static plots that are often still used in the academic world. Jorge knows people who still use Fortran 90 and 77 to code, so by using Workspace to create easy-to-read visualizations, he is really "ahead of the curve."
Putting newly acquired data skills into practice
Lastly, we talked to Sanjay, a pre-final year student in India pursuing math and computing majors while balancing freelance work as a probability and statistics subject matter expert.
His friends introduced him to DataCamp and he quickly became a fan of the skill and career tracks: "The instructors are highly knowledgeable, everything is practically oriented—it's amazing." His friends also reminded him that DataCamp has a new product called Workspace, which he then started to explore. (My two cents on this? Sanjay has good friends.)
Sanjay's Workspace publication on COVID-19 data was based on a dataset from Kaggle and was created for the sole purpose of an academic assignment his professor gave him. He started working outside of Workspace and quickly realized that Workspace would make his life a lot easier. He created an in-depth analysis based on his DataCamp learnings, published them, and submitted them by simply sending his professor a link.
I learned most of my information from DataCamp's skill tracks and the career tracks. I applied those skills in my Workspace project.

Sanjay N.