DataCamp's First-Ever Free Week
Everyone should have the opportunity to hone their data skills and future-proof their career. This week, you can get free, unlimited access to everything on DataCamp!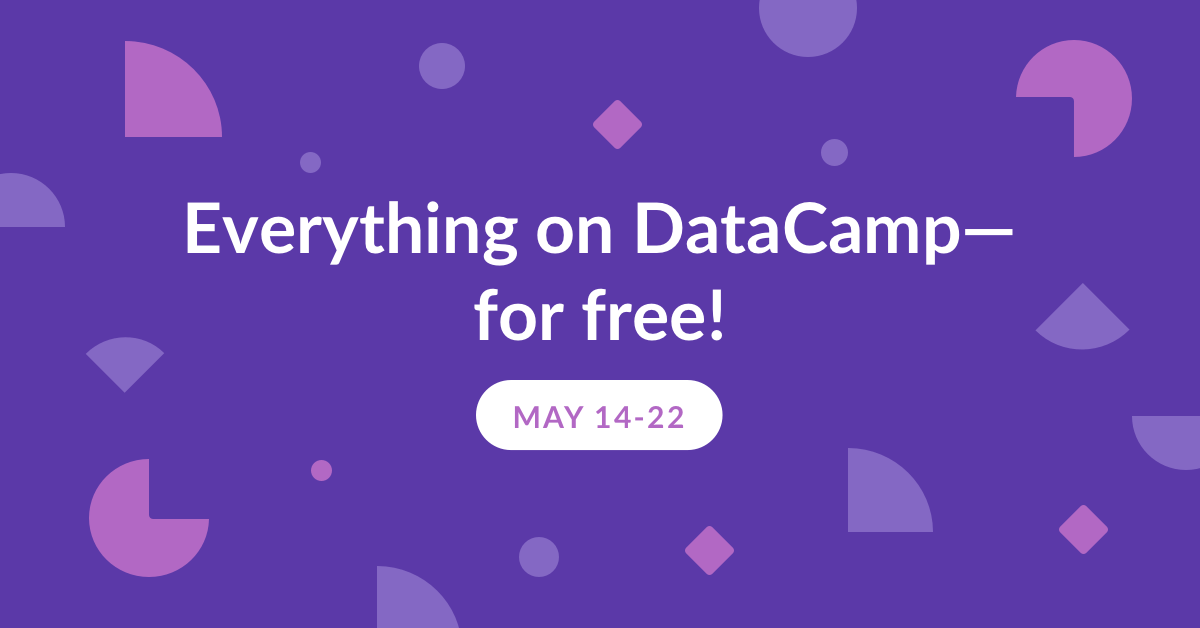 From the beginning, DataCamp's mission to bring data science and analytics education to learners worldwide has never wavered. Now that most people are doing the best they can to help their local communities and the world at large from home, we feel it is our responsibility to deliver our service to as many people as easily as possible. Just because things seem stuck, does not mean we cannot grow as individuals and teams.
That's why we are making our entire platform and course library available to everyone without a DataCamp subscription for free for an entire week. That's it. No catch. No credit card needed. From May 14 to 22, everyone can enjoy the full range of what DataCamp has to offer.
The reason for Free Week is simple: we believe an informed population is an empowered one. This tenet is a cornerstone from which all our initiatives burst forth. We want to remind everyone that, even now, they possess the agency to uncover new talents and possibilities. Furthermore, the need for a data-fluent society has never been more urgent as the world changes daily in increasingly difficult and confusing ways. We envision a future when individuals, companies, and governments can cooperate on monumental challenges because everyone is fluent in the languages of data (after all, we need to find the curve if we ever hope to flatten it). Rather than being bogged down by information overload, we believe everyone has the capability to discern fact from fiction if given the best possible tools to do so. Free Week is a small step toward that lofty goal, and we hope it will also have an immediate positive impact on those who take advantage of it.
If you are a newcomer thinking about expanding your horizons, welcome! Our "Everyone" courses are designed with no barrier to entry, and you'll uncover a world of new ways to sort and interpret data after just a few hours of courses. If you're an experienced data professional looking to sharpen your skills and take your career to the next level, what are you waiting for? Our vast trove of over 330 courses taught by world-class data professionals contains the new tools you need. Businesses looking for techniques to help their teams analyze and make superior decisions need look no further. Not sure where to start? With DataCamp Signal, you can quickly determine your skill level or the skill levels of your team members, and receive personalized course recommendations.
Let's use technology to come together while staying inside. Try out DataCamp for free for an entire week and join our wonderful community of instructors, developers, and learners.
---
---
← Back to blog