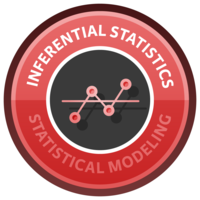 Inferential Statistics
137 Exercises
6 hours
2,440 Participants
11,700 XP
Open Course Description
This course complements the course on Inferential Statistics at Coursera.
Lab 0: The Basics of R
This lab is about teaching enough R to start using it for statistical analyses.
lab 8: Introduction to R continued
This lab continues with an introduction to R
Lab 1: Comparing two groups
The current lab treats differences between two independent groups, paired groups and proportions
Lab 2: Categorical Association
Investigating associations between categorical variables.
Lab 3: Simple Regression
Predicting a response variable one predictor variable.
Lab 4: Multiple Regression
Predicting a response variable with more than one predictor variable.
Lab 5: Quantitative associations: ANOVA
This lab treats the statistical methodology of the analysis of variance
Lab 6: Nonparametric tests
This lab will treat testing methods that can be employed when the assumptions of other methods are not met