Introduction to Data Culture
This introductory course on data culture provides an essential understanding of data culture concepts and their practical applications.
Start Course for Free
1 Hour
8 Videos
23 Exercises
Loved by learners at thousands of companies
---
Course Description
This course is a conceptual course which provides learners with an overview of how to create a data culture, breaking down the what, why, and how. It should be created with the intent of having a wide audience - from data novices to data experts but with an emphasis on the leader persona. This course should offer insight into (1) what defines a data culture and what creating one truly means; (2) why a data culture is important and what makes it different from that of a traditional culture; (3) how an organization creates this type of culture, walking through the steps they would need to implement: selling the value of data, gaining buy-in from stakeholders, assessing the current state of the org and the existing skill-gaps, creating an education plan to close the identified skill gaps, and the launch and execution of the transformation program; (4) The key features of driving cultural change like identifying program champions, addressing the cultural impacts of a data-driven approach, and how to measure success of the program. This course should be relevant to a wide variety of users, should remain skill and tool agnostic; however, bringing in examples which relate to learners in different roles is highlighted.
Getting to Know Data Culture

Free

Why should organizations cultivate a data culture? In this chapter, you'll learn what a data culture is, understand why it is crucial to business success, and know what factors could impose challenges in building a data culture.

In this chapter, you'll learn how to assess an organization's data culture progress with a maturity model, understand why leadership and employee buy-ins play a crucial role, why we strive to build a sustainable data culture in addition to a regular data culture, and how different stakeholders could contribute to the process.
Collaborators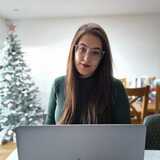 Joanne Xiong
Data Science Content Developer
Joanne is a Data Science Content Developer at DataCamp. She holds a Master's degree in Statistical Science from the University of Oxford. Her passion is applying statistics and data science to a broad range of fields, ranging from clinical statistics to quantitative psychology.
See More
What do other learners have to say?
Join over
11 million learners

and start Introduction to Data Culture today!