New Course: Marketing Analytics for Business
Become a data-driven marketer: Learn about our newest no-code course, which will show you how as a marketer you can use data to better understand your customers and drive business growth.
What will I learn?
Marketing Analytics for Business is our latest no-code course, introducing you to the role of marketing analysts and how they leverage data to answer questions such as:
What effect will customer lifetime value (LTV) have on my business?
How much of an effect will seasonality have upon sales?
What will our return on marketing investment be?
How can I accurately analyze customer sentiment towards my marketing activities?
Should we apply last-touch attribution (LTA) or multi-touch attribution (MTA)?
How can I improve the impact of future marketing campaigns?
Why should I take this course?
Through working with real-world marketing data, you'll gain a solid foundation of knowledge in one of the most widespread uses of data science, which will enable you to become a more data-driven marketer. This course will show you what this role will entail, from dealing with messy data to predicting the effects of marketing activities. It will also show you the effect marketing analytics will have on your workplace. Remember—their success is also yours!
Additionally, because this course is so recent, it will give you an up-to-date understanding of recent developments in marketing analytics such as the introduction of GDPR and other privacy legislation.
Furthermore, if you are already confident in your data science skills, learning how to apply these to a marketing setting will boost your employability. Seeking out this career path, your skills in R, Python, SQL, or BI tools will be highly sought after by employers, and showing an understanding of marketing in addition to these will make you a strong candidate for any marketing analyst listing.
Are there any prerequisites?
Because there is no coding involved, this course is completely beginner-friendly. Taking Marketing Analytics for Business is a good idea if you have a data background and would like to explore marketing as a career option, or if you come from a marketing background and are looking to apply data to your profession. Furthermore, it is the first course in the Data Skills for Business track, so is an excellent starting point in multiple ways.
What is in this course?
What does a marketing analyst do? Why is this role in high demand? In this chapter, you'll learn about roles and business questions that a marketing analyst encounters. From revenue impact to campaign insights—you'll find that marketers will never run out of problems to analyze.
Like all of DataCamp's content, this course mixes instruction with hands-on exercises to help you gain a better understanding of the subject matter.
Chapter 2
Marketing analytics is not for the faint of heart! Between numerous data sources and ever-increasing privacy legislation, marketing analysts must consider multiple factors in reporting. Add in measuring the indirect impact of marketing, and you'll see why marketing analysts get extremely comfortable with imperfect data.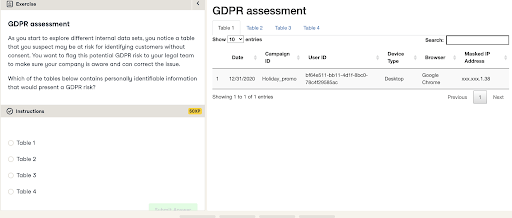 An exercise in spotting and flagging legal risks with regards to customer data
Chapter 3
Now that you know more about the marketing analytics landscape, let's talk about how you can use it to assess campaign performance. To do this, you'll dive into text and sentiment analysis, audience segmentation, and predictive analytics. Marketers and executives rely on analytics to send the right message to the right people at the right time.

An exercise in understanding sentiment analysis from the human perspective
Chapter 4
The big question every marketer asks is "did my marketing efforts make any money?" To answer that question you'll have to consider: seasonal patterns, business model, campaign goals, and ROI. Most importantly, you'll be responsible for setting and measuring KPIs to evaluate marketing effectiveness.

An exercise to test your understanding of the differences between LTA and MTA
Are you ready to start making your marketing activities more data-driven? Interested in working in marketing analytics? Go ahead and start learning this course here!