Event Recap: Developing an AI Literate Nation
We recently hosted a fireside chat with AI Singapore to discuss how they are developing an AI fluent nation with national upskilling programs.
If you would like to learn more, you can watch the full webinar here.
In June of 2017, AI Singapore was launched with the mission to build AI capabilities in Singapore, create social and economic impact through AI, grow AI talent, and create a vibrant AI ecosystem. Building an AI fluent nation involves developing the tools to empower citizens to become AI aware, AI literate, and AI experts. During the webinar Laurence Liew, Director of AI Innovation, and Koo Sengmeng, Senior Deputy Director of AI Innovation at AI Singapore, reflected on how AI Singapore has successfully rolled out national upskilling programs, covering various strata of Singaporean society. During the discussion, three broad themes emerged:
The pillars of building a vibrant national AI ecosystem
To achieve its mission in building a vibrant AI ecosystem, AI Singapore based its core activities on five main pillars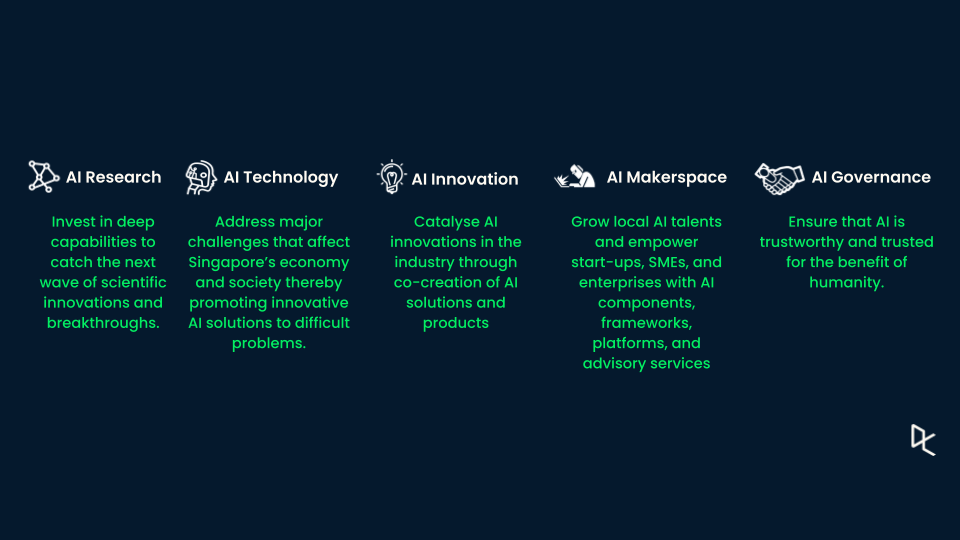 Talent development is key when building an AI fluent nation
In June 2017, as part of its AI Innovation pillar, AI Singapore launched a program called "The 100 Experiments", which aims to create 100 different AI projects. The main challenge was hiring the right skills and people for the project. Competing with big tech companies, such as Facebook, Google, and Microsoft created a talent shortage in Singapore. As a solution, AI Singapore focused on recruiting engineers who are passionate about learning AI skills but have not had the opportunity to obtain real-world experience. Engineers would go through a 9-month apprenticeship program that would allow them to gain the relevant experience to take responsibility for future projects.
Upskilling with DataCamp
One of AI Singapore's goals is to demystify AI and make it accessible to everyone. During the early days, they would run a 3-hour long workshop called AI for everyone. Due to the success of the workshop, they saw the need of providing further access to a high quality AI curriculum and training. This need led them to collaborate with DataCamp, which has allowed them to scale their learning program and offer it to anyone who is interested. Laurence explained that DataCamp has become a key part of their initiative thanks to the "Learn today, apply tomorrow" approach. He further mentioned, "I like the way DataCamp structures the courses. You watch a short video and then apply the skills straight away". Considering that AI Singapore's customer target is professionals who work 8 to 10 hours per day, they do not have the energy to sit through long video tutorials and learn a new skill. However, with the DataCamp approach AI Singapore experienced a 30-40% completion rate of their program.
"Datacamp is about to learn today, do tomorrow" - Laurence Liew, Director of AI Innovation at AI Singapore
Best practices rolling out nationwide upskilling programs
There are different challenges associated with every citizen when rolling out nationwide training programs. Inclusivity and accessibility has been a key ingredient in AI Singapore's success.
Maintaining an inclusive program
Koo explained that AI Singapore is not an AI talent development program, instead, it is a generational development AI capability program. They are working hard to involve anyone regardless of their age, gender, or social status, as everyone must have equal opportunity and become AI literate. Furthermore, due to Singapore's linguistic diversity, the AI for Everyone program has been translated into English, Mandarin, and Malay.
"We want to ensure every strata in society regardless of age, gender, economic status, to have access to best quality AI education." — Koo Sengmeng, Senior Deputy Director of AI Innovation at AI Singapore
Koo Sengmeng also discussed how AI Singapore strives to go beyond languages, creating learning programs designed for all ages, from kids to working professionals and senior citizens. Recent partnerships with schools have allowed them to develop AI for students. By following the DataCamp approach, they converted the AI for Everyone program into small bite-size videos to make it accessible online. When Covid-19 hit Singapore, they had an entire learning package toolkit online, ready to be accessed by any school. By expanding the program into schools, AI Singapore has been able to conclude some commonalities and differences that are important to consider when designing a nationwide program:
A common foundation is very important across all ages. This can be achieved by standardizing common terms.
Develop a mental narrative that positions AI as a tool and it should not be feared.
Maintain emphasis on creating ethical AI solutions.
Contextualize the skills to fit the needs of different learners. This context will make data literacy and fluency a powerful foundation.
Make the learning experience easy and frictionless.
Why ethics must be part of the curriculum
Laurence emphasized that data biases are really important, but it is not something new. Humans tend to draw conclusions that favor a particular outcome. For this reason, students are required to take at least one AI ethics module during the program. Moreover, AI Singapore is in constant collaboration with industry experts, which has allowed them to develop awareness about potential borderline ethical issues.
Building an AI narrative that involves every citizen
Koo mentioned that one of the most important elements to build an upskilling program for a nation is to get the citizens ready for it. In order for the program to be successful, many working professionals and kids need to be AI-aware. Moreover, collaboration with other governmental bodies is key, as no single agency can achieve an AI nation by itself. Laurence further emphasized that you cannot only focus on academic researchers if the industry is not aware and citizens do not embrace technology and AI. National programs need to make sure they empower their citizens to become data-savvy and AI-aware.
How does AI Singapore see the future of learning
Laurence explained that AI Singapore envisions a drastic shift in the current learning landscape. Schools need to be more dynamic as the rapid growth in technology is forcing them to readapt the skills they teach. Of course, basic courses such as English or Math, might not change as much, but generally, schools feel the pressure to evolve faster and teach industry-relevant skills. Koo mentioned, "the industry is saying you need to train your students so they can deploy their skills faster". A few institutions in Singapore are leading the progress as they are looking to allow students to design their own modules, so they learn what they are passionate about. Laurence summarized it as "pursuing your love, rather than institutions forcing structured curriculum paths that might not work for everyone". This transition is then further accelerated by digitalization and the adoption of Artificial Intelligence.

---
---
← Back to blog